24 September 2020 | 17:42
Moldova will elect its President in a second ballot, suggests the data of a poll conducted between July 16 and August 23 and published by the International Republican Institute.
Asked with whom they would vote if presidential elections were held next Sunday, most Moldovan participants said that Maia Sandu – 20 percent and Igor Dodon – 18 percent. Respondents, including 23 percent undecided, other seven percent said they would vote for Renato Usatii, Vladimir Voronin- four percent, Andrei Nastase – three percent.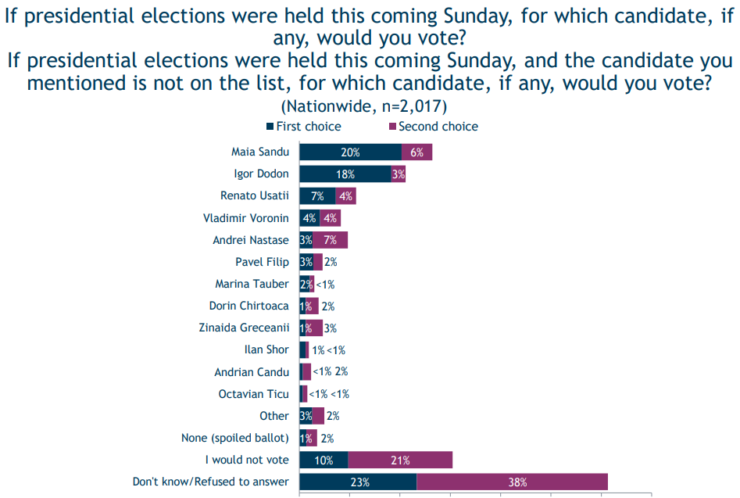 In Chisinau,  27 percent of the respondents prefer Maia Sandu and Igor Dodon – 16 percent.
Asked who should duel in the second round, 42 percent of the Moldovan citizens Igor Dodon, 41 percent – Maia Sandu, 10 percent – Renato Usatii, seven percent – Andrei Nastase, and others. Thirty-three percent were undecided or refused to answer.
The International Research Center of the International Republican Institute (IRI) conducted the survey, with Magenta Consulting collecting the data between July 16 and August 23, in Moldova, except for the Transnistrian breakaway region.
The US Agency for International Development aided the survey's organization.
The Presidential Elections of Moldova will take place on November 1. The election campaign will start 30 days before election day. So far, three candidates have been registered: Renato Usatii (Our Party), Andrei Nastase (DA Platform), and Tudor Deliu (Liberal Democrat Party). Three other candidates – Igor Dodon (independent), Violeta Ivanov ("Șor" Party), and Maia Sandu (PAS) – submitted their documents to register as electoral contestants.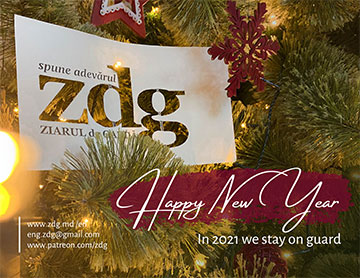 Alina Frunza, Diana Severin
20 September 2020
President Maia Sandu met with Josep Borrell, High Representative of the European Union for Foreign Affairs and Security Policy, Vice-President of the European Commission. Maia Sandu thanked for the constant sup…
The President of Moldova, Maia Sandu, had a meeting with the President of the European Commission, Ursula von der Leyen. Maia Sandu posted a message on Facebook and "thanked the President of the European Commi…
The Constitutional Court declared inadmissible the notification of the Action and Solidarity Party regarding the possibility of self-dissolution of the Parliament. The announcement was made today, January 18, b…
The President of Moldova, Maia Sandu, had a meeting with Laura Codruța Kövesi, Chief Prosecutor of the European Public Prosecutor's Office, in Brussels, during which the judicial reforms were discussed. &…
Durlești Forest, located in the suburbs of Chisinau, is destroyed under the eyes of the authorities. Instead of trees growing, we see reinforced concrete constructions all over the place, despite the fact that…
This week we watched a symptomatically sad meeting between three former Soviet countries' presidents: Vladimir Putin invited Armenian Prime Minister Nikol Pashinyan and Azerbaijani President Ilham Aliyev to a m…