18 September 2020 | 11:19
On Tuesday, September 15, humankind marked International Democracy Day. It was a difficult day in Minsk, where hundreds of democracy promoters are in prison. In Russia, the authoritarian regime poisons its opponents with worldwide banned substances. Azerbaijan didn't celebrate democracy either, convicting its activists and investigative journalists on fabricated files. Moreover, it was not a Democracy Day for Turkey either, where thousands of human rights activists are imprisoned in the absence of legal convictions.
Why do we refer specifically to these states: Russia, Belarus, Azerbaijan, Turkey? Because they are the favorite states of the Moldovan president, and the democracy index in these countries implies the model of democracy chosen and preferred by Igor Dodon.
How was Day of Democracy marked in Moldova? It was an official event, launched by Prime Minister Ion Chicu, as the first meeting of the National Council for Human Rights. At first sight, it is different from the way the authorities in Minsk, Moscow, Baku, or Ankara acted on this day. However, it was a sad day for the Moldovan democracy.
The government organized the National Human Rights Council's first meeting with the prime minister and two ministers. Ion Chicu sat in his zoom desk, in a large hall, at a round white desk, with a large cinema screen, and a series of employees who set everything in motion – the technical department responsible for the connection and proper functioning, the secretariat responsible for the plan, speech and interventions, media service reliable for good photos and communication.
Where is democracy? Democracy means involvement and voices. I would like to send a few messages to this council, some serious concerns about Moldova's human rights. Society would have wanted, for example, to ask what to do when the state authorities enter the house in the morning, kidnap you, put you on a plane, and transport you to a foreign prison without a trial, sentence, and access to justice (a reference to the Turkish teachers' illegal expulsion)? What do we do with the losing trust in the justice system, the human rights, in the state that guarantees punishment for human rights violations?
If a citizen had wanted to be represented at the first meeting of this National Human Rights Council, it would have been challenging. Yes, they would have found out that there is such a council since February 2019, its entity created on the State Chancellery page. There is also a Council's Facebook page, however it is a dead council. There is no public engagement on the entity's social media page, no appreciations, not even a comment, nothing.
Do you want to know who a member of the great National Council for Human Rights is? Ministers. Head of obedient trade unions. The head of the Prosecutor's Office who fails cases on human rights violations. And some NGOs. Which one? Unknown. How many? Unknown. When will the next meeting be? Unknown? What will the agenda be? Unknown. Will the ministers work in this Council? Unknown. What to do about violated rights? Unknown. This is no Democracy. We stay on the Guard.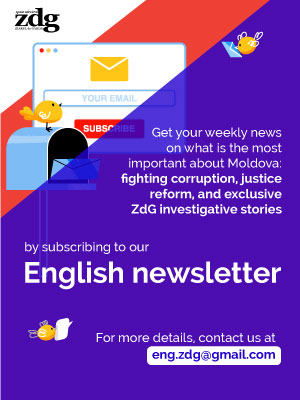 Marina GORBATOVSCHI
13 November 2021
While looking for interesting local people to invite to the Moldovan-American Convention MAC8 in Seattle, that will be held between September 30th and October 2nd 2022, I found Vladislav Zotea, a mountain climb…
Starting with his own life story, in 2010, Jasminko Halilovic, originally from Bosnia and Herzegovina, began documenting a book about children growing up in war times. Meanwhile, meeting dozens of people who we…
Roskomnadzor (Federal Communications, Information Technology, and Media Surveillance Service) ordered Ziarul de Gardă to delete an article about Russia's war on Ukraine and asked Internet operators to blo…
Several articles published by ZdG during 2021 have had an impact and led to opening criminal cases or sanctions. The investigation "Concrete Instead of Trees in a Chișinău Forest" brought to the public's…
"I left the unit out of fear. I joined the army to do military service and not to let someone mock me. (…) The superiors reacted aggressively. I learnt nothing from the military service: I made repa…
"Fighting corruption is a very important process that we engage to complete; the country's strategy, however, must focus on education." A year after the inauguration of Maia Sandu as President…
-
-
barista oat milk
-
yatırımsız deneme bonusu