18 September 2020 | 16:27
Moldova registers  665 new cases of COVID-19 infection.
There are six imported cases: Turkey- two, Ukraine- two, Italy-one, UK- one.
The balance of people infected with the new Coronavirus reached 45,648  cases.
In total, the authorities performed  2,776 tests, of which 237 are repeated tests.
Out of the total number of cases, 37 are medical workers: 14 doctors, 17 nurses, and six auxiliary staff.
There are 1,186 death cases, of which 16 are registered on September 18.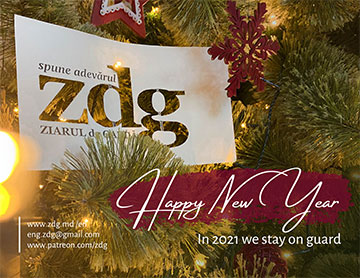 Cristina Dulea
27 July 2020
Several deputies from Moldova's Parliament participate in the winter session of the Parliamentary Assembly of the Council of Europe. The session takes place from 25 to 28 January in Strasbourg. The topics on th…
Moldova receives a 10 Million euros grant from Germany for a sewerage system project. Moldova's Ministry of Finance and the Development Bank of Germany, on behalf of the Government of Germany, signed the Suppl…
The presidential elections remained behind and the inaugural event's emotions were consumed. The Socialist Party and their leader Dodon no longer control the presidency. So what's next? After the first st…
On Tuesday, January 19, 2021, Russian opponent Alexei Navalny and his colleagues made a surprise to Vladimir Putin, entire Russia, and the whole world: they showed the wealth and boundless greed of this Soviet-…
The Constitutional Court declared unconstitutional the bill on the functioning of languages ​​spoken on Moldova's territory. The Constitutional Court decision: "On behalf of Moldova, the Constitutio…
President Maia Sandu has appointed her adviser in the field of national defense and security, secretary of the Supreme Security Council. On 21 January, the President of Moldova, Maia Sandu, signed the decree ap…