16 September 2020 | 12:42
The Moldova Project is an Association founded by three young women in 2008, aiming to support vulnerable Moldovan families. At the end of summer, the Association planned a fun day in Chisinau for children from these families. However, due to the pandemic situation, the party moved into the families' households.
According to statistics, almost a quarter of Moldova's population lives on the brink of poverty. The National Bureau of Statistics reported that 7 out of 10 women in rural areas have suffered from at least one form of violence caused by their partner. UNICEF states that about 75 percent of Moldovan children have experienced physical and psychological violence.
The Moldova Project supports families living in abuse and poverty, focusing on children from these families to avoid their placements in specialized residential institutions.
"A hungry man cannot listen."
The Association's founder, Victoria Morozov, started the project with two other colleagues from the UK. Initially, they organized various activities for children from Moldovan orphanages with other volunteers from abroad. "Later, we realized that children are deeply vulnerable in these institutions, and there are serious consequences on the child's personality and future, so we started working with these families to prevent abandonment in residential institutions," says Victoria. 
Over the years, the Association's team expanded with various specialists, focusing more on vulnerable people's rehabilitation. In August 2020, a minibus stopped at three houses in the Geamăna village, Anenii Noi district, center Moldova. The Moldova Project brought the party at children's gates. They entertained the kids with an animator and painted with an art therapist.
Aliona Ababii is 26 years old and raises a boy and a girl by herself. She says it was much harder before she learned about the association three years ago: "On my own, I had no strength to do something. The association helped me a lot, assisting me with the roof, food, wood, and many others."
The Moldova Project assisted two mothers Natalia Croitor and Aurica Negru. Natalia is 26 years old, has six children, and has been part of the project for more than a year: "We used to live in a small house with no living conditions, they helped us with the purchase of a bigger house and ever since they bring us food monthly. It's good with them," says Natalia.
Aurica, the 29 years old mother with three children, received aid with house repairs: "They also helped us with products, but especially with one of the children's eye surgery, which cost a lot."
Moreover, the Association's founder emphasizes the importance of giving donations with a goal: "A hungry man cannot listen, they don't know what it's like to be sustainable and financially independent. These donations must be combined with a sustainable, logical plan. You can't just buy a house for a family that doesn't have a place to live. These people are broken, and they need to be rehabilitated multidisciplinary."
"I saw that you could live better."
The Moldova Project beneficiaries are parents who also grew up in challenging conditions. Therefore the association teaches them to take care of themselves.
"A person's vulnerability is not his poverty. Poverty is a consequence. People end up unable to cope, because something has happened in their lives – a trauma, a loss, or violence, leading their lives towards even more negative aspects, " adds the association's coordinator. 
Larisa Paslicenco has six children. The Moldova Project team found her family six years ago and helped her together with the local social assistant: "They saw how we lived and started to help us. I was in extreme poverty, and I thought this is good, that this is how people live. These wonderful people's help made me realize that you can live better. They helped us with medical surgery and contributed to the kids' development. Moreover, they helped us, the parents, live and behave differently, to see life from another perspective. The emotional support matters a lot – you have someone to talk and to complain to, on any topic, at any time, and you know that you have support," says Larisa.
"When we work with them, children forget everything."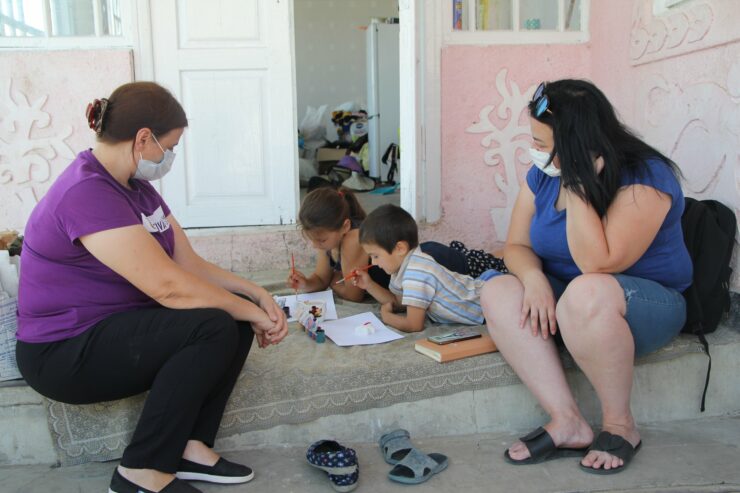 The psychologist Tatiana Silistraru is in the association's team. She says that most vulnerable Moldovan families lived in abuse and need this kind of support: "Along with lowering a family's poverty, there is the psychological work. Vulnerable families experience all types of abuse – alcohol abuse, physical abuse, social abuse. It is important to have a multidisciplinary team that works with them." 
The association's team has an art therapist, Elena Creţu, who says that when children draw or paint, they lose the fear of failure. Their passivity turns into openness to communication: "When we work with children they forget all the problems, we become their friends and then we can help them, we discover their needs and wants. Children are often emotionally affected at home. Through art, they communicate about their family situation differently, and it is easier for us to work with their parents."
Amid the emergency state, "The Moldova Project" launched a Purple Line, where vulnerable families can apply for material and informational support. Thus, the number of beneficiaries has doubled to 100 families now.
The Minister of Health, Ala Nemerenco agreed with the Ambassador Extraordinary and Plenipotentiary of the People's Republic of China to Moldova, E. S. Zhang Yinghong to launch the third phase of the proje…
A high-level visit of EU officials takes place during 13-15 of September in the Republic of Moldova, with the participation of Ms. Katarína MATHERNOVÁ – Deputy Director-General for Neighbourhood…
The Ambassador of the French Republic to Chișinău, Pascal Le Deunff, was decorated with the Order of Honor by the President of Moldova, Maia Sandu at the end of his mission in Moldova. "This morning, I aw…
A high-level visit of EU officials to Moldova takes place on September 13-15 with the participation of Katarina Mathernova, Deputy Director General for Neighborhood Policy and Enlargement Negotiations of the Eu…
The European Commission approved this week to send over 36 million euros of non-reimbursable money from the 600 million euros grant intended for Moldova. The announcement was made by Katarína Mathernová, Deputy…
The General Prosecutor's Office announced on Monday, September 13, that they initiated criminal proceedings against the embezzlement of state financial means through schemes in the process of importing el…