15 September 2020 | 11:47
Border Police employees found and seized six luxury cars and a motorbike after 10 searches. The stolen goods along with registration certificates, photocopies of official documents, and other documents with signs of forgery come allegedly from the European Union. The inspection took place at the end of the last week.
According to the Border Police's information, during 2015-2020, a group of citizens from Moldova, Romania, Italy, and Albania organized a criminal scheme to cross the luxurious cars across the state border illegally.
The criminal group allegedly stole the means of transport worth 120,000 euros from the European Union. The members also perfected and used the registration documents, the customs documents, and made unauthorized mechanical modifications.
Thus, following the investigation activity and the materials accumulated in the criminal case, the authorities carried eight searches in Chisinau, Orhei, and Anenii Noi districts.
Moldovan Border Police found a "Piagio" moped and a "VW Amarok" car, both with forgery signs. Investigators seized five other cars: Nissan X-Trail, Jeep Compass, BMW X5, Mini Cooper, ALFA ROMEO, brought illegally from the EU in Moldova.
Documented persons admitted their guilt during the hearings and are currently under non-custody investigation.
To detect all persons involved in the transport theft, Moldovan border guards are continuing investigations in cooperation with national and European law enforcement authorities.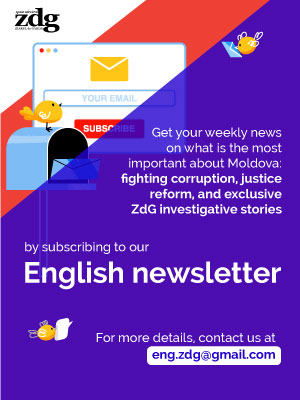 Alanna Armitage
24 May 2020
While looking for interesting local people to invite to the Moldovan-American Convention MAC8 in Seattle, that will be held between September 30th and October 2nd 2022, I found Vladislav Zotea, a mountain climb…
Starting with his own life story, in 2010, Jasminko Halilovic, originally from Bosnia and Herzegovina, began documenting a book about children growing up in war times. Meanwhile, meeting dozens of people who we…
Roskomnadzor (Federal Communications, Information Technology, and Media Surveillance Service) ordered Ziarul de Gardă to delete an article about Russia's war on Ukraine and asked Internet operators to blo…
Several articles published by ZdG during 2021 have had an impact and led to opening criminal cases or sanctions. The investigation "Concrete Instead of Trees in a Chișinău Forest" brought to the public's…
"I left the unit out of fear. I joined the army to do military service and not to let someone mock me. (…) The superiors reacted aggressively. I learnt nothing from the military service: I made repa…
"Fighting corruption is a very important process that we engage to complete; the country's strategy, however, must focus on education." A year after the inauguration of Maia Sandu as President…
-