11 September 2020 | 10:22
An offshore firm controlled by oligarch Plahotniuc paid the studies at prestigious universities of Moldovan politicians' children, writes rise.md.
Marian Lupu's daughter, the head of the Tax Collector Office, is among the beneficiaries.
The money ended up in the accounts of educational institutions through the offshore Rowallan Overseas SA, which benefited millions of dollars from the activity of Metalferos Company.
Rise Moldova writes that on July 15, 2014, when Marian Lupu was the Democratic Party' president, the offshore company Rowallan Overseas SA transferred 10,510 Euros to the University of Maastricht, the Netherlands. The payment's destination indicated " Student ID: I6092064, Alexandra LUPU " In 14 days, the offshore would transfer another 8,500 euros to the Dutch institution, adding up to 19,000 euros.
The former deputy Constantin Botnari sent his children to a British university, paying their studies with money from Rowallan Overseas Company's accounts. Rise Moldova found three foreign singers received payments for performances in Plahotniuc's nightclubs from the offshore's account as well.
ZdG wrote in late July about a connection of the Panama-based offshore Rowallan Overseas, with another offshore company, Metoil Trading LLP, from which the "tick company" had received $4,63 million. Both offshore companies sorted metal transactions from Metalferos.
Latvia's Money Laundering Prevention Service informed that Vladimir Plahotniuc benefitted from "Rowallan Overseas" SA between October 30, 2012 – June 1, 2015.
At that time, Plahotniuc was the first vice-president in the Moldovan Parliament. The company "Metoil Trading" LLP did not appear in Plahotniuc's declaration of assets.
In June 2015, Serghei Noscov (70 years old), a Moldovan citizen, was the beneficiary of "Rowallan Overseas" SA offshore. Journalists from Rise Moldova noticed he was a "key figure" in the business controlled by Plahotniuc.
In 2006-2009, Noscov represented many of Plahotniuc's offshore companies, including a hotel in Chisinau.
In December 2019, the Kroll report showed that Vladimir Plahotniuc was the final beneficiary of several offshore companies, including Rowallan Overseas SA. All the offshore companies received US$18,2 million and €3,5 million. The money came from illicit sources, obtained from non-performing bank loans granted by three Moldovan Banks.
Moreover, the Kroll report states that Rowallan Overseas received about US$646 million from June 2006 to September 2015. Detectives from the Kroll company established that Rowallan Overseas received half a million dollars, reaching later the "Finpar Invest" company's accounts, founded by Plahotniuc's family. In June-July 2013, the offshore received US$12,5 million from the three Moldovan banks involved in bank fraud.
The money "walked" through several offshore companies and later reached the Prime Management Company, the only officially indicated company in Plahotniuc's declaration of assets.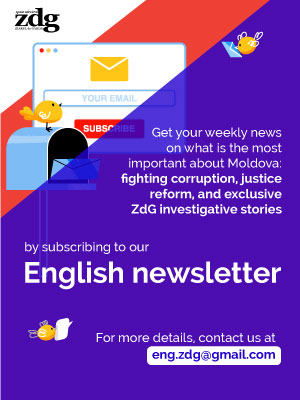 Petru Grozavu
05 December 2021
While looking for interesting local people to invite to the Moldovan-American Convention MAC8 in Seattle, that will be held between September 30th and October 2nd 2022, I found Vladislav Zotea, a mountain climb…
Starting with his own life story, in 2010, Jasminko Halilovic, originally from Bosnia and Herzegovina, began documenting a book about children growing up in war times. Meanwhile, meeting dozens of people who we…
Roskomnadzor (Federal Communications, Information Technology, and Media Surveillance Service) ordered Ziarul de Gardă to delete an article about Russia's war on Ukraine and asked Internet operators to blo…
Several articles published by ZdG during 2021 have had an impact and led to opening criminal cases or sanctions. The investigation "Concrete Instead of Trees in a Chișinău Forest" brought to the public's…
"I left the unit out of fear. I joined the army to do military service and not to let someone mock me. (…) The superiors reacted aggressively. I learnt nothing from the military service: I made repa…
"Fighting corruption is a very important process that we engage to complete; the country's strategy, however, must focus on education." A year after the inauguration of Maia Sandu as President…
-
-
barista oat milk
-
yatırımsız deneme bonusu