About 60 percent of the total number of new COVID-19 infections in Moldova are from Chișinău. As of August 31, 15,125 cases had been registered in the capital, of which 804 children and 600 medical staff. These are the data presented by the deputy director of the Health Directorate of Chișinău municipality during the extraordinary meeting of the Chișinău Municipal Council.
"The incidence of infection per 100,000 people is 648.1 cases in August, while in July- 396.93. As you can see, we have twice as much in August. The total number of outbreaks is 5752", said Violeta Baltă, the deputy director of the Health Department of Chișinău.
Chișinău registered 328 deaths out of the 992, on a national level.
"We are facing a much more aggressive situation compared to the one until August 1. In August we have a sad record of generalizing the number of cases ", mentioned the deputy director of the department.
Regarding hospitalization, on August 31, 695 people are hospitalized, of which 194 serious, and the 44 beds of Intensive Care are fully occupied. There are medical reserves for two months, assures the official who says that last week the stocks were supplemented with 100,000 masks and 100,000 gloves.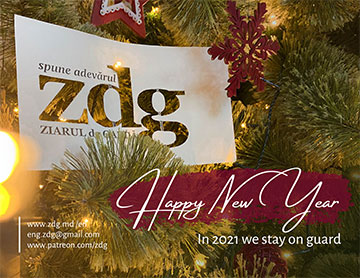 Aneta Grosu
25 July 2020
In 2020, the website www.zdg.md hosted the most readers in its history: 5 million. The news, surveys, interviews, and reports of ZdG journalists were read, distributed, and discussed both online and in many loc…
Last week President of Moldova, Maia Sandu withdrew Pavel Abraham from the Commission for the selection of candidates for the position of judge at the European Court of Human Rights (ECHR). As a follow-up, the…
Dumitru Cernea is 86 years old. He dedicated 57 years of his life to the work of an engineer. He is now retired and currently lives in Chișinău. He is one of the 10,000 subscribers of Ziarul de Gardă. One day,…
President Maia Sandu had a meeting with the head of the OSCE Mission to Moldova, Claus Neukirch. The officials discussed several issues, in particular, the settlement of the Transnistrian conflict. President Ma…
Moscow cannot forgive President Maia Sandu's statement on the need to withdraw Russian troops from the breakaway Transnistria region, made right after her election win. The subject is periodically resumed…
After the meeting with the president, Volodymyr Zelenskyi, Maia Sandu, also had a meeting with the president of the Ukrainian parliament, Dmytro Razumkov, and a separate meeting with the Ukrainian prime-ministe…