Ion Șova is a young filmmaker from Moldova, whose film Feel India is now accepted in competition at many festivals around the world. He studied at the Faculty of Theater and Television in Cluj, Romania, and previously directed the short film Tenebris, awarded in 2014, with an honorable mention at the Manhattan Film Festival, U.S.A.
ZdG asked Ion Șova about his trip and filming in India, the interaction with the locals, and the lessons he learned from there.
I kept trying to find my way in life, after college. I tried to find a style to follow. I tried to make documentaries about Moldovans abroad, but it didn't work, and then I started to travel more, given the fact that I was part of the cabin crew for a while, until the pandemic.
Once you're in the world, you can press Play on camera, film something else. Although the work I was doing is demanding, the working days coincided with the number of days off and then you can travel and film.
I learned to combine the useful with the pleasant. I can say that there were several factors that contributed to maintaining my cinematic path. When you travel, you have time to discover and, of course, you can work on some projects.
My adventure with India began in Cambodia. I had worked for a company that worked for this country. I got there. I did the training. I worked for two months and after that, the company went bankrupt. We were given tickets to return home. I asked for the ticket and went to India. I wanted to get there a long time ago, but I still couldn't. That was my chance. 
When you want something, you take certain risks. I traveled through India for two and a half months. There were times when I stayed in a two-room apartment for three euros a night, but there were also nights when I slept in the train station next to dogs and homeless people because I had nowhere to stay. Once, I was able to stay for a week in a three-room apartment, only the place I chose was quite boring. There were only Russian and old tourists there. I stayed a week and I didn't know what to do about boredom.
The first trip was to Mumbai, where we arrived with two bags. I had already started planning the route from Cambodia. Later, on the way, I threw away some more things and arrived home with only one bag.
Nothing is easy. I went to jail twice for the drone footage. The first time, I took footage near a conflict zone. I also have the filming of about five motorcycles coming towards me. I stayed there two days behind bars. Then I stayed once more when I happened to be filming on a reservation after I've walked away from the guide. Then I spent a night in jail. I also ate rice with detainees.
There are so many things that amaze you in India. Everything shocks you at first, then you get used to it somehow. Anyway, the experience there stays with you. India is such a diverse country Everything is impressive. There, every morning you wake up and wonder what still awaits you this day.
No one approached me to tell me not to film him while I was walking around the country. Here, on the contrary, people often ask you if you don't want to take a picture of them. They don't mind being filmed.
The film is about people. It lasts 11 minutes and 22 seconds and has no dialogue. I worked on it for more than a year. I had managed to gather about two Terabytes of information. I had problems with storing the information. I was saving the material in more places, so as not to lose it. We don't have a plan for how I would like the movie to be, I just went and filmed everything I saw. I wouldn't, in fact, tell the idea of ​​the film, so that everyone can make a conclusion for themselves, after seeing it.
For half a year I only edited and I think I edited it as I would have liked. I found room for everything I wanted to keep in the film. There are some frames that really stuck in my mind and for those images, I found space in the film. Otherwise, the film consists of a lot of frames. It's very dynamic and I expected it to be accepted at several festivals.
India has changed me completely. I tend to believe that everything we interact with changes us in one way or another. Obviously, I learned a lot from traveling there. This trip had a big impact on me. I learned answers to questions I had never asked myself before.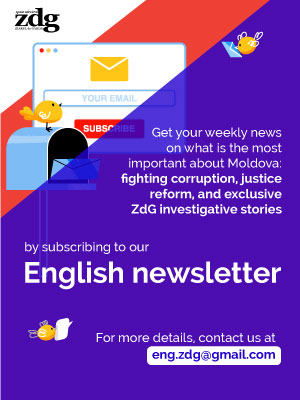 24 March 2021
While looking for interesting local people to invite to the Moldovan-American Convention MAC8 in Seattle, that will be held between September 30th and October 2nd 2022, I found Vladislav Zotea, a mountain climb…
Starting with his own life story, in 2010, Jasminko Halilovic, originally from Bosnia and Herzegovina, began documenting a book about children growing up in war times. Meanwhile, meeting dozens of people who we…
Roskomnadzor (Federal Communications, Information Technology, and Media Surveillance Service) ordered Ziarul de Gardă to delete an article about Russia's war on Ukraine and asked Internet operators to blo…
Several articles published by ZdG during 2021 have had an impact and led to opening criminal cases or sanctions. The investigation "Concrete Instead of Trees in a Chișinău Forest" brought to the public's…
"I left the unit out of fear. I joined the army to do military service and not to let someone mock me. (…) The superiors reacted aggressively. I learnt nothing from the military service: I made repa…
"Fighting corruption is a very important process that we engage to complete; the country's strategy, however, must focus on education." A year after the inauguration of Maia Sandu as President…
-