The director-general of the World Health Organization (WHO), Tedros Adhanom Ghebreyesus, criticized the vaccine 'nationalism', advocating for the sharing of tools to allow the planet to fight COVID-19, reports the European Way.
"Vaccine nationalism is not good. It will not help us," he said at the Aspen Security Forum, held for three days, this year.
"There should be a global consensus to make any vaccine a common public good; (…) It is a political commitment," he pleaded, according to Agerpres.
"The damage caused by COVID-19 could be diminished if the countries with the necessary resources were committed," the WHO director insisted.
According to the WHO's director of emergency programs, Michael Ryan, about 26 vaccines are in various stages of testing, six of which are in a good stage of clinical trials.
More than 19 million cases of infection with the new coronavirus have been reported worldwide. Since the outbreak of the pandemic in China in December last year, 700,000 people have died because of the COVID-19.
Several leaders, especially a part of the Western world, have promoted and continue to advocate for a vaccine against the new coronavirus to be considered a universal public good, an idea strongly supported by the European Commission and international institutions.
Countries around the world are working to secure access to a potential vaccine against COVID-19. Last month, the U.K. government signed contracts to purchase 90 million doses of a new vaccine against COVID-19.
The European Commission also concluded preliminary talks with a pharmaceutical company on August 3, for the purchase of a potential vaccine against COVID-19.
The contract with Sanofi-GSK would allow the European Union (EU) Member States to purchase the vaccine. Once a vaccine will prove to be safe and effective against COVID-19, the Commission is expected to have a contractual framework for the purchase of 300 million doses on behalf of all the EU Member States.
At the same time, at the European level, France, Germany, Italy, and the Netherlands have bought 400 million doses of COVID-19 vaccine in advance, stating that the doses will be distributed in other EU countries.
Across the Atlantic, President Donald Trump has expressed confidence that a vaccine can be developed until November 3, the date of the U.S. presidential election, in which the current White House leader will face former Vice President Joe Biden.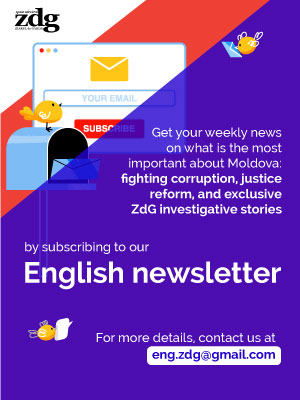 Press Release
18 July 2020
While looking for interesting local people to invite to the Moldovan-American Convention MAC8 in Seattle, that will be held between September 30th and October 2nd 2022, I found Vladislav Zotea, a mountain climb…
Starting with his own life story, in 2010, Jasminko Halilovic, originally from Bosnia and Herzegovina, began documenting a book about children growing up in war times. Meanwhile, meeting dozens of people who we…
Roskomnadzor (Federal Communications, Information Technology, and Media Surveillance Service) ordered Ziarul de Gardă to delete an article about Russia's war on Ukraine and asked Internet operators to blo…
Several articles published by ZdG during 2021 have had an impact and led to opening criminal cases or sanctions. The investigation "Concrete Instead of Trees in a Chișinău Forest" brought to the public's…
"I left the unit out of fear. I joined the army to do military service and not to let someone mock me. (…) The superiors reacted aggressively. I learnt nothing from the military service: I made repa…
"Fighting corruption is a very important process that we engage to complete; the country's strategy, however, must focus on education." A year after the inauguration of Maia Sandu as President…
-
-
eskort
-
eskort eskişehir
-
-
barista oat milk