First Money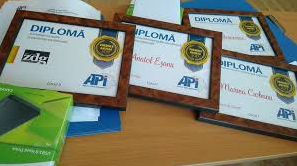 When we launched our newspaper back in July 2004, we had no money, no sponsors, no advertising, or patrons. We had received a small grant from the Government of Romania (Department for Romanians Abroad) from which we purchased a computer, for the newspaper layout, and covered expenses for print, paper, and modest salaries. We didn't even have an office, the Independent Journalism Center (CJI) hosted us in the basement for free, for a few weeks. But we had a lot of enthusiasm, an enormous desire to make a good newspaper, one that would write mainly about corruption and human rights violations. We also had a breadth of experience and professional training. We thought these were values that would attract the public, gratitude, and publicity. In 16 years we have had the largest circulation among Romanian language newspapers, one of the largest audiences on the website and social networks among the publishers in Moldova, and… one of the smallest budgets from advertising.
Our Most Loyal Financiers – Retirees
ZDG has a close relationship with its print edition subscribers. The number of subscribers increases every year and we know that the newspaper's readers are, in fact, retirees from villages and small towns. They are the most loyal donors, they buy their subscription at the end of each year, filling us with messages of support, praise, energy, and goodwill. They are smart and hardworking, they are the intellectuals of the villages and they tell us honestly that they need to read and that the printed edition of ZdG covers their thirst for reading. We always kept the subscription prices low because their pensions are low, even if the costs are high. That is how we can stick together, and we are satisfied.

Foreign Donors-Conditioned Money
To start back in 2004 again, we set off with a small grant by the Romanian Government to support us for a few months. Then we participated in hundreds of grant competitions announced by various foreign embassies and organizations. These were all competitions, and the grants were offered with many conditionalities. Some we won and easily implemented, others – we found more difficulty, yet others – we never got. But what we have learned from external donors are lessons that the Government, Parliament, the Presidency, the Prosecutor's Office, the town halls, and any organization should learn. External donors demand transparency, extreme financial fairness, and organizational development. Thanks to external donors, we get money to conduct investigations, but we also got pushed to have public annual activity reports, to have integrity policies, codes of ethics and behavior, and financial, anti-fraud, funds management and security policies, documents and equipment safekeeping. We have developed these policies and we respect them. All thanks to the U.S. Embassy, ​​the Dutch Embassy, ​​the Canadian Embassy, ​​Internews, Free Press Unlimited, Open Society Foundation, National Endowment for Democracy, Freedom House, Millennium DPI, BBC, Irex Europe, ICFJ, Zinc, IWRP and many other organizations that made ZdG's activity possible for 16 years. We thank the citizens of the developed countries for sharing a part of their taxes with us and contributing to the development of the investigative press in the Republic of Moldova.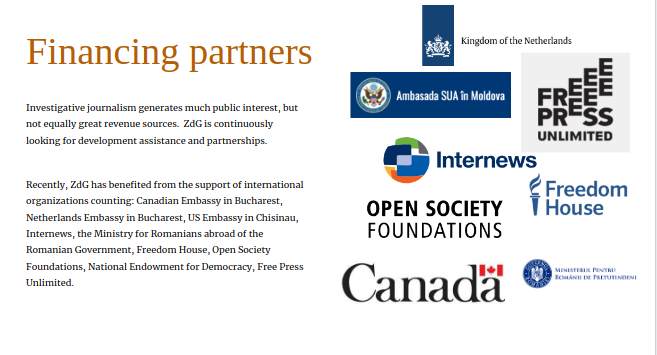 Online Community – Small but Strong Patrons
ZdG's website also turned 16 years and has always delivered free content. We fought to have the best possible content and as many readers as possible, including on the web and on social networks. We remain followers of the quality journalistic content offered to readers at very low prices (in print) or for free – online because we want people to know what happens to corruption and human rights abuses. We have tried to attract small contributions from readers to cover our running costs. On abonare.md, people can buy and donate subscriptions to the editions printed in Romanian and Russian, to the PDF editions in Romanian and Russian, and to the English newsletter. There are several hundred subscription donors this year and we thank them! We recently opened an account on Patreon for online donations. Yesterday we had the first 15 patrons with monthly donations of 2-20 dollars. Thank you!

Political Money-the Reverse of the Coin
In these 16 years, 12 governments and around 5 regimes (Voronin, Filat, Plahotniuc, Sandu, Dodon) have ruled the Republic of Moldova. We approached everyone critically. Some promised to shut us down, others promised to create conditions for the press. The first failed, the second – they tried but had to leave. In the election campaigns we always faced the dilemma – will they give us money? If not – why? If they offer us money – should we accept it or not? It was simple. The parties gave money when they came to power, and that is when we were more vocal about their policies. That is why the large sums went to the media who did not criticize them. The few political advertising contracts helped us cover some of the financial needs of the newsroom, but they also brought us criticism. Readers have often told us that they do not want to see praiseworthy posters with corrupt politicians, even if they are marked as advertising. We complied. We have often refused to publish political advertising for ethical reasons, refusing money. We have given up on placing political advertising on the front page forever. We still don't know if we will be offered political publicity money and we don't know if we will accept it. We wish we could refuse all.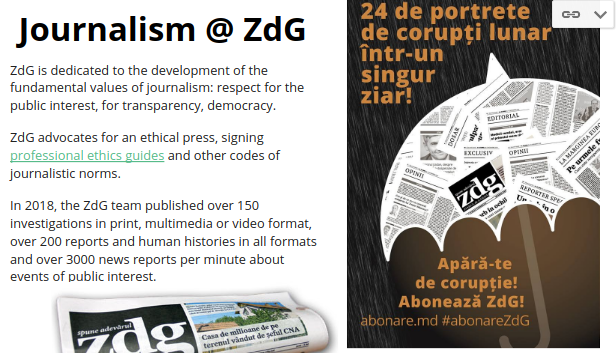 Big Advertising – the Big Fiasco
For 16 years I had an expectation, which I kept telling my colleagues in the newsroom, but also to external donors: we are growing, we have quality, we have a large community of readers, now the big advertising will come and we will not be so dependent on donations. Today, at age 16, we are ready to declare the opposite: ZdG has not managed to attract publicity money from big companies. And this is not necessarily a bad thing. Maybe we didn't know how to convince them, maybe they didn't want to be convinced, there is an explanation for everything. The truth is that we tried several times, we talked to notorious CEOs and heads of associations of Moldovan-European, Moldovan-American businesses. Promises resounded, but they never materialized.
1. Foreign or mixed capital companies have told us that their policy is to offer advertising to the biggest players on the market, who are chosen by advertising agencies. Thus, for years, all advertising budgets went to politically controlled media through politically controlled advertising houses. Is that what foreign companies with codes of ethics wanted? Probably not, but probably they did not make efforts to change the situation, they probably found this economically convenient.
2. Large companies with Moldovan capital have also rejected our advertising offers for all 16 years. The saddest situations were when some of them contacted us for advertising, conditioning us not to publish certain articles. We would receive a call with an offer for advertising just as an investigation into government corruption involving contracts with these companies was heading out to print. We turned down these offers. They were left with the money, we kept our journalism. We do not regret it and will continue to do so.
3. We have often refused advertising for ethical reasons. We refused to place offers from some tourism companies, involved in suspicious or proven scandals linked to human trafficking. Not to mention we refused to publish ads with wizards, riddles and other promises of luck without evidence. We refused ads for drugs without official certification, although we were offered double the price. We do not regret that and will continue to do so.
4. We refused trips, visits, sponsorships that conditioned the writing of controlled and conditioned (advertorial) articles. We refused barters and dubious products. We do not regret this and will continue to do so.
CONCLUSIONS – Do We Need Money or Not? What Kind of Money Are We Looking for?
ZdG's Advertising Strategy for 2020-2022
After 16 years, we understood that we cannot function without money, but that there are principles that we cannot give up and that there is money that we will refuse even in conditions of extreme poverty.
1. We have decided that we want to bring and apply the principle of transparency and ethics to ZdG's advertising activities too.
2. We have decided that large or small businesses, international, joint or national companies also have a role in combating corruption and respect for human rights, and we will not seek or accept advertising from entities that contribute to the promotion of corruption or carry out activities which are contrary to human rights and transparency.
3. We also decided to offer preferential conditions to companies that have codes of ethics in sight and that are created by or in the interest of disadvantaged persons: people with disabilities or vulnerable categories such as small rural businesses, women, youth and Roma.
We will develop relationships with ethical and moral donors, whether large or small. We will promote human rights-friendly businesses. We will offer discounts to businesses that are guided by the public interest and are run by people from disadvantaged communities. We will contribute to the development of a community in which obscure money, politically controlled groups or opaque interests no longer have a decisive role, no longer enjoy a dominant or exclusive role.
Is such a model possible? Yes! From this issue, we launch the first two advertising contracts. These are two small businesses, opened in Moldova: The company "Multimedica", recently opened in Chisinau by Dr. Ludmila Furtună, who worked for many years in the healthcare system in Italy. And "Demo," led by Ilarion Misnei, who owns a business with detergents and cleaning products produced in Moldova. We thank these companies and believe that there are others who want to present their products or activities to our community.
Recommendations for those who Resonate with ZdG:
Anyone can contribute to the sustainable development of investigative journalism so that we can reach a society that is as transparent and uncomfortable as possible for the corrupt and human rights abuses.
Representatives of large, medium, small, national, or international, mixed or individual business institutions could ask themselves, as a preliminary point, a set of questions: when there is a budget for promotion, where is it good to spend money? At politically controlled advertising houses, which have an insensitive audience to political corruption or to institutions that militate and fight for fair and equal conditions for all, including the elimination of political corruption, to combat interference in business.
Anyone can encourage the management of a company to discuss and adopt policies on the contribution to the development and transparency of society, whether an employee of a company, a consumer of products from a company, a member of the community or a political leader, a minister, an ambassador, a taxpayer.
Anyone can contribute to the sustainability of ZdG, by:
– Purchase for own use or for donation of subscriptions to print or PDF editions in Romanian or Russian or of a subscription to the newsletter in English.
– Assuming the role of partner on Patreon, for an amount from 2 to 20 usd per month
– Promoting information about ZdG and development opportunities and informing other potential donors.
Motivation. Why Should You Contribute to the ZdG Community?
ZdG has undertaken a mission of public interest and has respected it for 16 years: fighting corruption and respecting human rights through journalistic investigations.
Ziarul de Garda is a press group with the most content distribution platforms: printed editions, web pages, video programs, social media pages in Romanian, Russian, but also in English.
ZdG is the most notorious Romanian-language newspaper in the Republic of Moldova.
ZdG is the newspaper in which the citizens of the Republic of Moldova have the greatest trust.
The ZdG editorial office was awarded at national and international competitions for the best investigations, reports, video stories, documentaries, for the best management and the best design, but also for the best impact.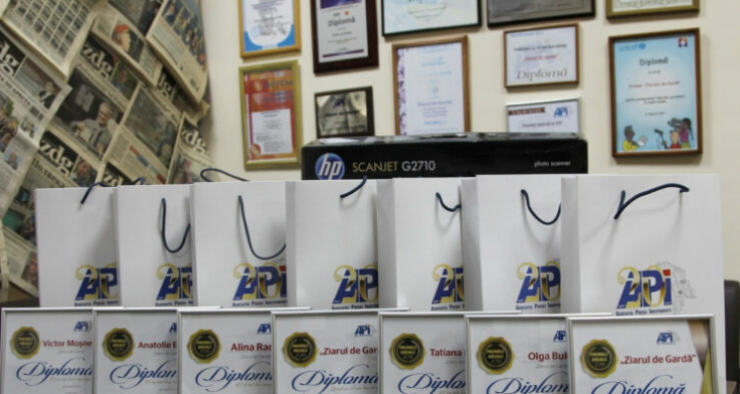 The stories of the ZdG have contributed to the leaving of corrupt people from the system: judges, ministers, parliamentarians, prosecutors. There is a lot of work to be done. Together would be faster.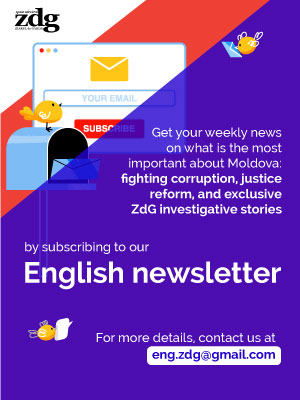 Petru Grozavu
21 March 2021
While looking for interesting local people to invite to the Moldovan-American Convention MAC8 in Seattle, that will be held between September 30th and October 2nd 2022, I found Vladislav Zotea, a mountain climb…
Starting with his own life story, in 2010, Jasminko Halilovic, originally from Bosnia and Herzegovina, began documenting a book about children growing up in war times. Meanwhile, meeting dozens of people who we…
Roskomnadzor (Federal Communications, Information Technology, and Media Surveillance Service) ordered Ziarul de Gardă to delete an article about Russia's war on Ukraine and asked Internet operators to blo…
Several articles published by ZdG during 2021 have had an impact and led to opening criminal cases or sanctions. The investigation "Concrete Instead of Trees in a Chișinău Forest" brought to the public's…
"I left the unit out of fear. I joined the army to do military service and not to let someone mock me. (…) The superiors reacted aggressively. I learnt nothing from the military service: I made repa…
"Fighting corruption is a very important process that we engage to complete; the country's strategy, however, must focus on education." A year after the inauguration of Maia Sandu as President…
-