Alexandru Rața, the former chief prosecutor of the Strășeni District Prosecutor's Office, who was deprived of his office last spring, tried to return to the Prosecutor's Office by challenging in court the order, which removed him from office. In the summer of last year, he submitted a lawsuit against the General Prosecutor's Office regarding his reinstatement, and on July 21, the magistrates of the Supreme Court of Justice have ruled on the prosecutor's requests.
The prosecutor considers that the order regarding his removal from office is illegal and must be annulled, by reinstating him and collecting the average monthly salary during the period of absence from work, as well as by paying him non-pecuniary damage in the amount of two average monthly salaries. 
The prosecutor claimed before the court that the dismissal report was not written by him and that he did not intend to file a resignation request. The prosecutor also specified that the report was signed "as a result of the mental constraint exerted on him by the general prosecutor."
In October 2019, the prosecutor's action was partially accepted by a decision of the Chișinău Court, reinstating him in office, but without paying non-pecuniary damages in the amount of two average salaries.
However, the representatives of the General Prosecutor's Office have appealed the decision and in January 2020, the magistrates from the Court of Appeal decided to quash in its entirety the decision of the court of the first instance and to reject as unfounded the request for appeals filed by Alexandru Rața.
Disagreeing with this decision, the former prosecutor decided to go to the Supreme Court of Justice, but on July 21 the magistrates decided to uphold the decision of the Court of Appeal.
According to the judges from the Supreme Court of Justice, the order regarding the dismissal of Alexandru Rața was issued within the limits of the competence established by law, in compliance with the legal procedure, and the contrary has not been demonstrated.
In March 2014, ZdG wrote that Alexandru Rața is poor according to his declaration of assets and personal interests, filed in early 2013. However, Rața lives in immovable property of millions, and his family members ride luxury cars.
Following this article, at that time the National Integrity Commission initiated an audit and established that the state prosecutor violated the law when he declared his assets and personal interests because he did not indicate the owned real estate, bank accounts, existing debt and that his wife is a founder at MazboCom company and Gala Modei company.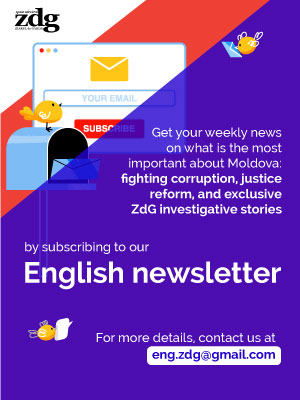 Cristian Jardan
24 July 2020
While looking for interesting local people to invite to the Moldovan-American Convention MAC8 in Seattle, that will be held between September 30th and October 2nd 2022, I found Vladislav Zotea, a mountain climb…
Starting with his own life story, in 2010, Jasminko Halilovic, originally from Bosnia and Herzegovina, began documenting a book about children growing up in war times. Meanwhile, meeting dozens of people who we…
Roskomnadzor (Federal Communications, Information Technology, and Media Surveillance Service) ordered Ziarul de Gardă to delete an article about Russia's war on Ukraine and asked Internet operators to blo…
Several articles published by ZdG during 2021 have had an impact and led to opening criminal cases or sanctions. The investigation "Concrete Instead of Trees in a Chișinău Forest" brought to the public's…
"I left the unit out of fear. I joined the army to do military service and not to let someone mock me. (…) The superiors reacted aggressively. I learnt nothing from the military service: I made repa…
"Fighting corruption is a very important process that we engage to complete; the country's strategy, however, must focus on education." A year after the inauguration of Maia Sandu as President…
-
-
-
barista oat milk
-
Tipobet Giriş
-
Ligobet