Prime Minister Ion Chicu announced that the new Prime Minister of Belarus, Roman Golovchenko, will make an official visit to Moldova after the presidential elections in Belarus.
The Prime Minister of Belarus, Roman Golovchenko, will make an official visit to Moldova after August 9. Moldova's Prime Minister Ion Chicu announced on July 20 after he returned from an official visit to Belarus.
"On July 17, I participated in the summit of the prime ministers of the member states of the Eurasian Economic Union, at which Moldova has the status of observer. The agenda included topics related to the economy.
We had bilateral meetings with the new Prime Minister of Belarus. We discussed issues related to bilateral cooperation, in particular, about the industrialization program of Moldova – the 16 industrial platforms.
The Belarusian side has shown interest in setting up industrial production companies here – elevators, buses, and others. I hope that in the near future, after the presidential election in Belarus, we will have the meeting of the intergovernmental commission and there will also be a visit from the Prime Minister of Belarus," said Chicu.
Chicu said that he had discussed with his Russian counterpart, Mikhail Mishustin, about resuming the negotiation process for the Russian loan, as well as about the exports of agricultural products to Russia, giving assurances that we will have access to the Russian market.
In April 2020, the Parliament approved in two readings the agreement through which Russia was to grant a loan of €200 million to support infrastructure projects in the country. The opposition highly criticized the agreement claiming that it favors Russian companies and acts against Moldova's economic interests. Following the Parliament's decision regarding the Russian loan, the Constitutional Court overturned it.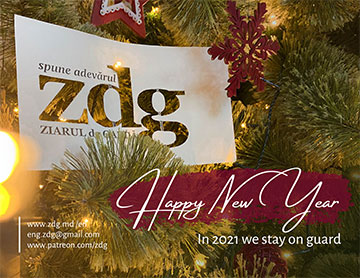 Victor Moșneag
02 September 2020
Natalia Gavriliță is the candidate for the prime minister position. The announcement was made today, January 27, during a press briefing by President Maia Sandu. "Today I made the decision to nominate Nat…
President Maia Sandu came with a message on International Holocaust Remembrance Day. She says that it is our duty to do everything possible so that such tragedies never happen again, anywhere in the world. R…
The General Prosecutor's Office confirms to ZdG the detention of the former anti-corruption prosecutor Roman Statnîi, a former subordinate of the suspended head of the Anticorruption Prosecutor's Of…
The Parliamentary Assembly of the Council of Europe adopted a resolution on undermining the independence of the judiciary in Moldova. The Assembly is concerned about the judiciary's proximity to political autho…
President Maia Sandu amended the regulations of the Supreme Security Council establishing new and exact criteria regarding the persons who can be appointed as members. Today was the first meeting of the new cou…
At the end of December 2020, the EU offered Moldova a batch of equipment to combat the COVID-19 pandemic as part of its "Solidarity for Health" Initiative in the Eastern Partnership (EaP) countries.