Vitalie Dragancea, Prime Minister Ion Chicu adviser, tendered his resignation, stating that he was tired and believes that another person in this position "will do his job better".
"I am just tired. And when you're tired, you don't do well. I think it's good to take a step back, and offer the place to someone with more powers to come and do the job well. It is a personal decision," Vitalie Dragancea declared for Ziarul de Gardă.
Asked what he will do next, Dragancea informed us that he didn't decide yet.
"Imagine that you ran 30 km. The first thing you do when you stop is to take your breath. I think I'll do this now. I'll breathe. Obviously, while breathing, I will think about what the next stage would be," added Dragancea.
Vitalie Dragancea's resignation request has already been approved and signed.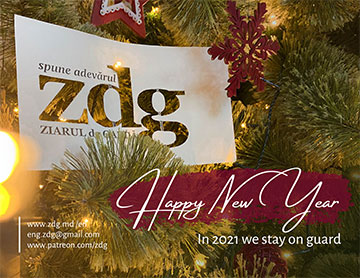 Nicoleta Braghis
05 August 2020
Natalia Gavriliță is the candidate for the prime minister position. The announcement was made today, January 27, during a press briefing by President Maia Sandu. "Today I made the decision to nominate Nat…
President Maia Sandu came with a message on International Holocaust Remembrance Day. She says that it is our duty to do everything possible so that such tragedies never happen again, anywhere in the world. R…
The General Prosecutor's Office confirms to ZdG the detention of the former anti-corruption prosecutor Roman Statnîi, a former subordinate of the suspended head of the Anticorruption Prosecutor's Of…
The Parliamentary Assembly of the Council of Europe adopted a resolution on undermining the independence of the judiciary in Moldova. The Assembly is concerned about the judiciary's proximity to political autho…
President Maia Sandu amended the regulations of the Supreme Security Council establishing new and exact criteria regarding the persons who can be appointed as members. Today was the first meeting of the new cou…
At the end of December 2020, the EU offered Moldova a batch of equipment to combat the COVID-19 pandemic as part of its "Solidarity for Health" Initiative in the Eastern Partnership (EaP) countries.