Moldova reports 195 new cases of coronavirus, three of the cases are in the breakaway Transnistria region. From the 195 new cases, one is imported (Cyprus).
The number of people infected with the new type of coronavirus reached 18,666. At the same time, 11,936 people recovered, while the number of COVID-19 deaths reached 624.
Today, the authorities performed 1,720 tests, from which 544 are repeated tests.
Of the total number of cases on this day, nine are medical workers: doctors – two, nurses – three. Until now, 2,578 cases of infection among healthcare workers.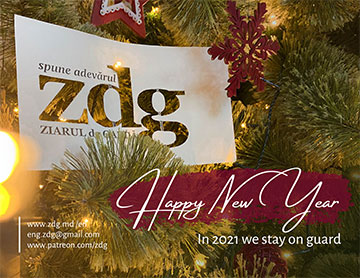 Alina Radu
14 January
President Maia Sandu met with Josep Borrell, High Representative of the European Union for Foreign Affairs and Security Policy, Vice-President of the European Commission. Maia Sandu thanked for the constant sup…
The President of Moldova, Maia Sandu, had a meeting with the President of the European Commission, Ursula von der Leyen. Maia Sandu posted a message on Facebook and "thanked the President of the European Commi…
The Constitutional Court declared inadmissible the notification of the Action and Solidarity Party regarding the possibility of self-dissolution of the Parliament. The announcement was made today, January 18, b…
The President of Moldova, Maia Sandu, had a meeting with Laura Codruța Kövesi, Chief Prosecutor of the European Public Prosecutor's Office, in Brussels, during which the judicial reforms were discussed. &…
Durlești Forest, located in the suburbs of Chisinau, is destroyed under the eyes of the authorities. Instead of trees growing, we see reinforced concrete constructions all over the place, despite the fact that…
This week we watched a symptomatically sad meeting between three former Soviet countries' presidents: Vladimir Putin invited Armenian Prime Minister Nikol Pashinyan and Azerbaijani President Ilham Aliyev to a m…