Pedestrians walk past the International Monetary Fund headquarters' complex in Washington Sunday, May 2, 2010. A senior International Monetary Fund official says the IMF's executive board is meeting in Washington to consider how much aid to grant Athens under a massive rescue loan package. (AP Photo/Cliff Owen)
Prime Minister Ion Chicu had a meeting with the team of experts of the International Monetary Fund (IMF), led by Ruben Atoyan, initiating the negotiations for a new three-year program with the IMF. The governor of the National Bank of Moldova, Octavian Armașu, also attended the online meeting.
According to a press release issued by the IMF Resident Representative to Moldova, the IMF mission led by Mr. Ruben Atoyan will hold discussions remotely from the IMF Headquarters in Washington, D.C. during July 7–22, 2020.
The press release stated that in response to the request from the authorities, the mission will hold discussions with the Moldovan authorities on a new three-year program focused on a comprehensive set of policies that would help maintain macroeconomic stability, support post-pandemic recovery, advance governance, and institutional reforms, and mobilize external financing. Discussions will focus on safeguarding Moldova National Bank's independence, improving fiscal and financial sector governance, strengthening the anti-corruption framework, and rule of law.
"For two weeks, the IMF mission will hold talks with the Moldovan authorities on an ambitious program that will take place over the next three years (2020-2023). The program will support the economy, promote good fiscal and financial governance, strengthen the rule of law, anti-corruption measures, and other areas.
Financial support amounts to $550 million. Most of the amount will be used as budget support and a small part to replenish foreign exchange reserves.
The meeting also discussed the political instability in Moldova, which is the only imminent risk that could prevent the fulfillment of the commitments required by the IMF. Thus, the mission will involve some political forces in the Parliament in discussions. In this order of ideas, in September, the Memorandum is to be discussed within the IMF board," states the government from Chișinău.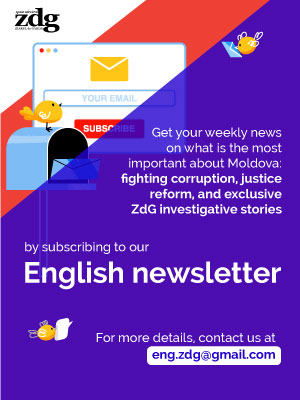 Petru Grozavu
16 October 2020
While looking for interesting local people to invite to the Moldovan-American Convention MAC8 in Seattle, that will be held between September 30th and October 2nd 2022, I found Vladislav Zotea, a mountain climb…
Starting with his own life story, in 2010, Jasminko Halilovic, originally from Bosnia and Herzegovina, began documenting a book about children growing up in war times. Meanwhile, meeting dozens of people who we…
Roskomnadzor (Federal Communications, Information Technology, and Media Surveillance Service) ordered Ziarul de Gardă to delete an article about Russia's war on Ukraine and asked Internet operators to blo…
Several articles published by ZdG during 2021 have had an impact and led to opening criminal cases or sanctions. The investigation "Concrete Instead of Trees in a Chișinău Forest" brought to the public's…
"I left the unit out of fear. I joined the army to do military service and not to let someone mock me. (…) The superiors reacted aggressively. I learnt nothing from the military service: I made repa…
"Fighting corruption is a very important process that we engage to complete; the country's strategy, however, must focus on education." A year after the inauguration of Maia Sandu as President…
-
-
eskort
-
eskort eskişehir
-
-
barista oat milk