On social media platforms, fraudsters were trying to engage Moldovan citizens to donate money for bogus charities featuring children who were suffering from serious illnesses and needed money for urgent treatment or surgeries. ZdG investigated four charity scams and found out that in three of the cases the children featured in the photos as Moldovan are actually from Russia, Romania and the U.S. ZdG also found that no person featured in the photos benefitted from the money donated by people. One of the cases featured a message issued by the parents of a five-year-old girl with cancer, who were asking for 39,000 euros for an alleged treatment in Turkey. The case was even mediatized by a Moldovan media organization. However, ZdG found out that it was a forged case with data and pictures stolen from a little girl in Russia, whose case was made public on social networks by her mother.
After uncovering all four charity scams, ZdG found the person whose bank account was featured in the posts, Andrei Ouș, and asked him about the cases. Ouș denied all the allegations and stated that he doesn't know anything, adding that he did not receive money from such schemes. ZdG verified his criminal record and found out that Ouș has four criminal cases, two for driving under the influence of alcohol and two for robbery and thief.
The Case of the Five-Year-Old Girl, Melisa
In May and June 2020, several Facebook accounts shared a post that featured the message of Melissa's parents, whose five-year-old girl has cancer. In the Facebook post, Melissa's parents were asking internet users for help to raise 160,000 euros, the money needed for expensive treatment in Turkey.
The authors of the post said that they collected 121,000 and they needed only 39,000 euros more.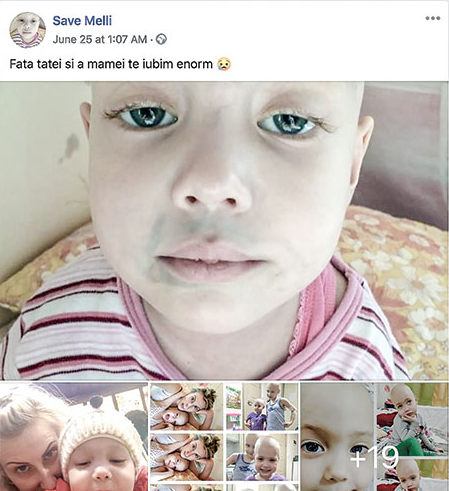 "My name is Verginia and I am addressing everyone who wants to save a baby. We, (Melli) and I, are in Turkey and have already undergone four courses of chemotherapy.
The only thing I can tell you is the diagnosis – Neuroblastoma, stage four, with liver and lung metastases. After surgery, stem cell transplantation will follow. I beg you, please help me give the girl a chance to live. Every help counts," the post stated. The post also contained several pictures with a woman and a child, apparently sick, as well as bank details through which people could donate money (account number, card number, and e-mail address of the so-called girl's father – ousandrei2@gmail.com, for transfers via PayPal).
The post stated that the bank details belonged to Andrei Ouș. The post even featured Ouș's personal identification number (IDNP).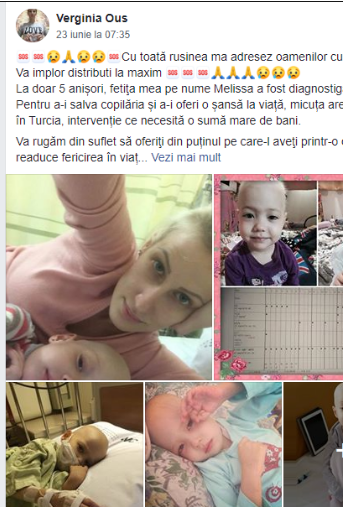 Initially, the post was created on June 12, from a Facebook profile named Verginia Ous. In the following days, Verginia's profile was blocked. However, the post asking for help was taken over by another profile, named Melisa Mosnoi.
The post was shared in dozens of Facebook groups, including Moldovan groups created for the diaspora.
On June 25, a Facebook page called Save Melli was created, which shared the same message and the same pictures with the girl who would have cancer. The post asking for help was shared dozens of times on the personal profiles of some Facebook users, who felt sorry for the child. The case was even mediatized by a Moldovan media organization, on the jurnal.md, but it was later deleted.
Melissa Ouș from Moldova is, in Fact, Mila Zainidinova from Russia
ZdG established that the message asking for help featuring Melissa Ous, that was shared on social media platforms was a bogus charity, produced by fraudsters who aim to pocket donations from people.
The pictures and facts about the terrible disease belong to Mila Zainidinova, a little girl from Russia, whose case was made public on social networks by her mother, Natalia Zainidinova.
Following a charity campaign, Mila's family managed to raise the necessary amount of money. The girl underwent cancer treatment in South Korea. The girl's Instagram account, as well as her mother's profiles, contain hundreds of photos and information about the progress of Mila's treatment.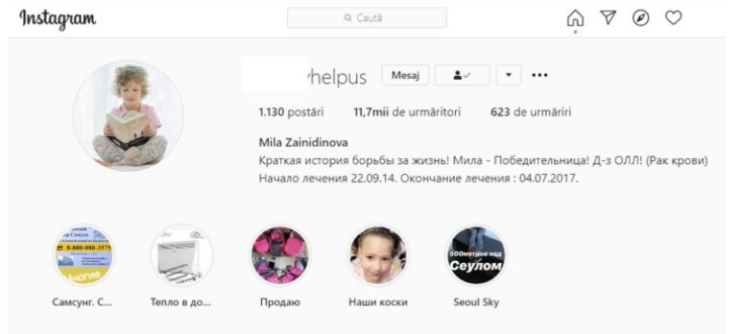 The photos from these accounts, alongside with data about the disease, were copied and used to produce the bogus charity in among Moldovan internet users. The fraudsters created some so-called documents issued by South Korea in the name of Virginia Ouș and Mila Ouș, using photo editing tools, to be more convincing and add credibility to the case.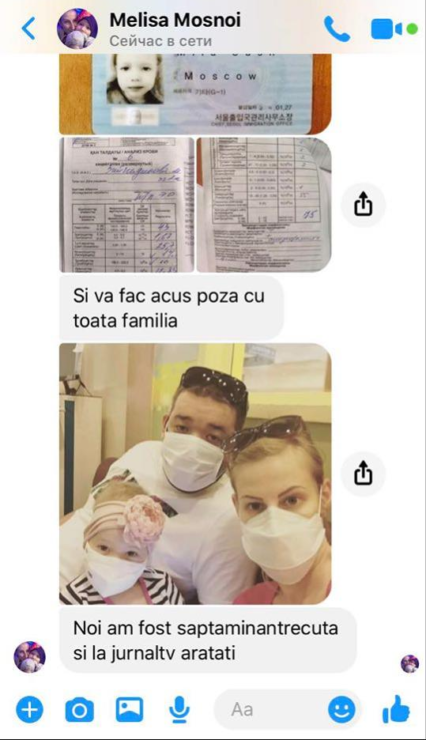 The Case of Constantin, Who Suffers from Butterfly Disease
Before the case of Mila Ouș, the same Facebook profile (now named Melisa Moșnoi) shared in Facebook groups the case of Constantin, who suffers from butterfly disease (epidermolysis bullosa), a rare but extremely severe disease.
The infection affects the skin, which becomes so fragile that any touch can cause painful wounds. In the shared Facebook posts, it was said that "patients suffering from this serious genetic disease have lots of restrictions and need huge amounts of money to sustain their lives. I hope to be heard, maybe one day I will find the remedy against this ordeal I am going through" (the original text contained misspellings, ed. note).
Initially, the post included several shocking pictures of the boy with the butterfly disease, as well as the bank accounts, so that generous people could donate money for Constantin. The bank details are the same as those displayed by the fundraiser for Mila Ouș.
ZdG found the boy suffering from the butterfly disease. Indeed, his name is Constantin. He is from Cinișeuți, Rezina district, north of Moldova. He has been fighting this disease since early childhood. Now, Constantin is 22 years old. He told us that an unknown person, without his consent, took his pictures from his page. He also mentioned that this person is using his illness and pocketing donations.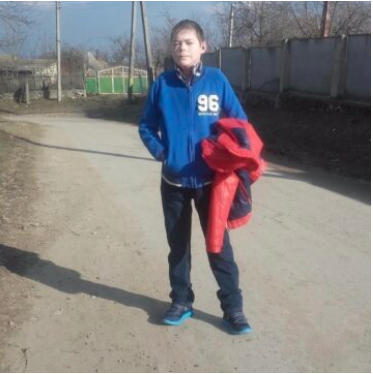 Elena Gorbatenchi, Constantin's mother, says that she also found out that an unknown person is using her son's illness to make money and declares that she filed a complaint with the police.
"There are other posts made as if by Costel, but I don't know how to identify these people. I do not know how to search the internet. I found out about this (the posts made by Melisa Moșnoi's profile, ed. note), and I filed a complaint with the police. They told me that they already know who the person is, and the bank knows… Nevertheless, the posts continue to appear.
We never gave anyone the bank details. We have the group "Let's help Constantin" on Facebook, his pictures are there, but we never gave bank details, only phone numbers. The fact is, I never hide and I give an explanation of where we live to whoever wants to help, so they can come and see Costel anytime," the woman claims.
Ion Gârlea, the district police officer from Cinișeuți, confirms that Elena Gorbatenchi's complaint was registered on May 19, this year, and says that he is examining the case.
"I am currently managing the case, but no decision has been made yet. I am still working," the police officer told us.
Another Case, of a Girl Named Sandra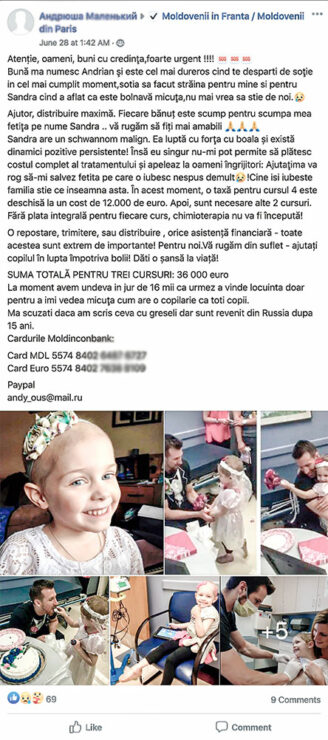 On June 26 and 28, this year, another Facebook post, requesting help, appeared in Facebook groups, including communities of Moldovan citizens abroad. This time, the post was made from a Facebook profile named Andriusha Malenkii (Андрюша Маленький). We render the ad, with only a few spelling corrections:
"Attention, people of good faith, very urgent!!!! Hi, my name is Andrian and it is really painful when you break up with your wife in a most terrible moment. My wife became a stranger to me and to Sandra when she found out that the little girl is sick. She doesn't want to know us anymore. Help, please, share. Every penny is valuable for my dear little girl named Sandra … please be kinder.
Sandra has a malignant schwannoma. She is struggling with the disease and there are persistent positive dynamics! But I cannot afford to pay the full cost of treatment on my own and I turn to caring people: Please help me save my little girl whom I love so much! Anyone who loves their family knows what it means.
Now, a fee for the fourth course of treatment is available at a cost of 12,000 euros. Then two more courses of treatment are required. Without full payment for each course, chemotherapy will not be started! A reposting, sharing, or any financial assistance – all of these are extremely important!
Please – help the child fighting against the disease! Give life a chance! TOTAL AMOUNT FOR THREE COURSES: 36,000 euros. At the moment we have somewhere around 16,000 euros …
I am going to sell the house just to see my little girl enjoy her childhood like all children. Excuse me, if I wrote something with mistakes but I came back from Russia after 15 years."
The Moldovans Sandra and Andrian are the Americans Abby and Matt
The post also included several pictures, featuring a girl with short hair, specific of cancer patients. Next to her, there is a man, and the pictures imply he could be Andrian, the author of the post, with his daughter Sandra.
The bank details attached to this post are different from those from the posts telling about Mila and Costel's case. However, the email address for transfers via PayPal (andy_ous@mail.ru) is similar to the email address published in Mila's case (ousandrei2@gmail.com). Both contain the first name Andrei and the last name Ouș, which suggests that the same person is involved in all three bogus charities.
The alleged pictures of Andrian and his daughter Sandra belong to a little girl from New York, the U.S., named Abby, suffering from cancer. In the pictures, she appears with Matt Hickling, the nurse who took care of her in hospital.
In July 2015, news about the little girl with leukemia and her nurse were massively shared on social media platforms from countries around the world. The four-year-old girl became so attached to the nurse who treated her that she told her mother she wanted to marry him. The girl's mother informed Matt, and he, with the help of his medical colleagues, surprised the little patient and organized a fictitious wedding in the hospital.
The Case of Antonio, 13-Year-Old Boy with Leukemia
The fraud scheme used in the three cases reported above is not a new one. It has been running for at least a year. The oldest case identified by ZdG dates back to July 2019. Specifically, on June 12, 2019, on a Facebook profile called Against the Disease was made public the case of Antonio Hoinaru, a 13-year-old boy diagnosed with acute lymphoblastic leukemia with severe anemia.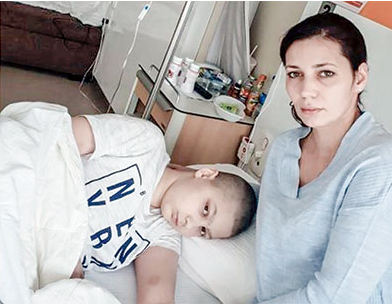 "The boy has to go through a bone marrow transplant that is done in a clinic abroad, and his mother is fortunately compatible, but the costs of over 100,000 euros are far beyond the parents' means. So far, through the Save a Heart Association, 75,000 euros have been raised, but this is not enough," stated the post, accompanied by a picture with a boy, allegedly Antonio, on a hospital bed, next to his mother.
The Same Person Benefited from the Charitable Donations
ZdG established that all the information in the case of Antonio Hoinaru, the data about his disease and the amount needed for the bone marrow transplant, is true. There is such a case in Botoșani, Romania.
However, the author of the fraud scheme copied this information and put his own bank details instead of the account of Antonio's parents. This time the same bank account was used as in the cases of Mila and Constantin, which proves that the beneficiary is the same person.
The profile named Against Disease initially published the post about Antonio Hoinaru. Later, the users Andrei Ouș (same name as the email/ PayPal addresses) and Andrei Belov repeatedly shared the post on Facebook.
ZdG found that Facebook users Andrei Ouș and Andrei Belov are, in fact, the same person. There are several connections between the two profiles, including identical pictures, in which the same person appears.
In December 2019, Antonio Hoinaru died because of the disease. However, the author of the fraud scheme continued sharing the request for help on social networks in the name of the boy from Romania. ZdG identified that the last time the author shared the post was January 16, 2020.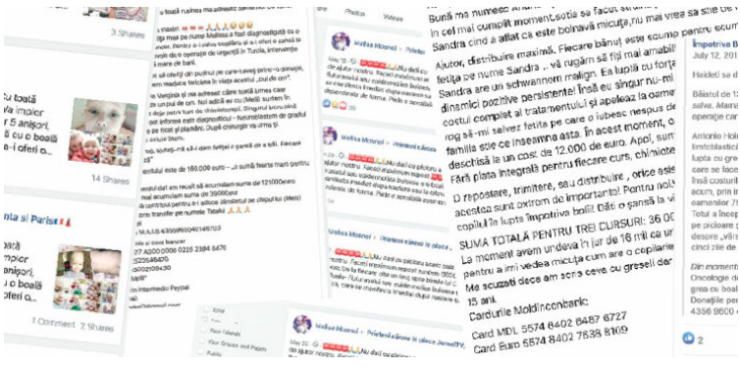 Andrei Ouș's Explanations
While investigating these cases, ZdG identified links among several Facebook profiles, who distributed the calls to help Melissa, Constantin, Sandra, and Antonio.
The profiles that repeatedly published or distributed these cases are Andrei Ouș and Andrei Belov (both belong to the same person), Melisa Mosnoi/ Мелисса Оуш, Verginia Ouș, Against Disease, Андрюша Маленький, and Save Melli page.
They all contained the same bank details, belonging to Andrei Ouș. ZdG found out that Andrei Ouș is 26 years old and lives in Telenești district, the north of Moldova. We found his home phone number and spoke to him.
He acknowledged that the Facebook profiles with the names Andrei Ouș and Andrei Belov belong to him, as well as the bank accounts displayed in the posts, and the email addresses. But Andrei Ouș claims that he did not benefit from any money coming from those accounts. He also says that neither he nor his wife, Cristina Ouș, made the posts on Facebook.
"If my wife did anything like this, she would tell me but she would never do it. God forbid, I also have two children. I don't even know how to explain," the man told us. However, he could not explain to us how his personal data, including the IDNP, appeared in so many posts on Facebook, starting with July 2019 and until June 28, this year.
Moreover, some of these posts, which also contained his bank card number, were distributed several times by both his profiles: Andrei Ouș and Andrei Belov. Andrei Ouș says that he does not know who created them and why his data is featured in these posts.
Shortly after we talked with Andrei Ouș on the phone, some of the profiles and Facebook pages that distributed the bogus charities were deleted. However, ZdG keeps several photo and video captures, made before the respective pages were eliminated.
The next day, we went to Telenești to talk to Andrei Ouș again. He denied that he was the initiator of the bogus charities.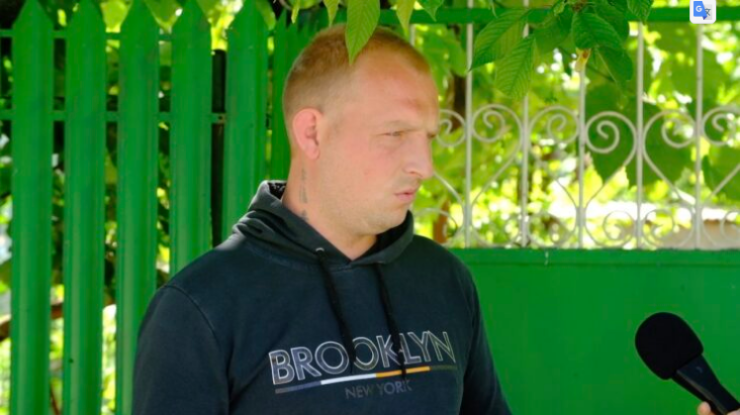 AO: We forgot the passwords to the profiles, that's why we have more profiles. I have a TV, it works through wifi and it's via Gmail and the kids meddle with it if they don't know… They look on Facebook, on TikTok, but I don't…
ZdG: But I don't think they share the posts.
AO: Yes, they don't share anymore. I tell you when I enter I do not read. I see something about charitable donations for sick people and I share and share. If I would read everything…I'm interested in something else, not…
ZdG: But did you recover the cards in the end?
AO: The MAIB card is still not with me today. It was taken from me again… I called MAIB, I called, about three weeks ago.
ZdG: What about MICB?
AO: From the MICB, yes, I have it.
ZdG: And you don't get money on it? Didn't you see transfers coming to you?
AO: No, I can really open, through the application, the bank statements. There is mentioned what money I put on the card. I have to download the application but I can do it. I don't have there…
ZdG: You mean you didn't receive money on the cards, and you didn't take money out of the cards?
AO: No, no. Especially from these I didn't even take out…
Andrei Ouș's Criminal Record
According to the data from the court, Andrei Ouș appears in several criminal cases. In April 2016, he was driving drunk and without a driving license an Opel Vectra car through the Telenești city. In August 2016, the Telenești District Court sentenced him to 150 hours of community service.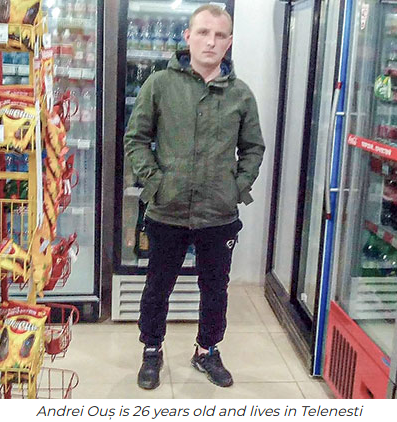 In November 2018, Andrei Ouș was repeatedly tried and convicted for violating the rules of traffic safety or operation of means of transport.
This time it was found that, in August 2018, he was driving drunk and without a driving license a Mazda car through the city of Călărași, the center of Moldova. The court imposed a fine of over 2,000 euros (39,400 lei), and the Chișinău Court of Appeal later upheld the sentence.
Previously, in 2009, Andrei Ouș was sentenced for theft and robbery to five and two years in prison, respectively, with law enforcement of the sentence suspended for a probation period of two years.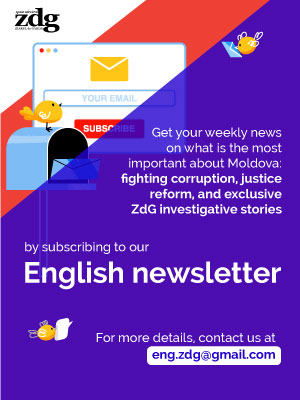 Press Release
18 January 2021
While looking for interesting local people to invite to the Moldovan-American Convention MAC8 in Seattle, that will be held between September 30th and October 2nd 2022, I found Vladislav Zotea, a mountain climb…
Starting with his own life story, in 2010, Jasminko Halilovic, originally from Bosnia and Herzegovina, began documenting a book about children growing up in war times. Meanwhile, meeting dozens of people who we…
Roskomnadzor (Federal Communications, Information Technology, and Media Surveillance Service) ordered Ziarul de Gardă to delete an article about Russia's war on Ukraine and asked Internet operators to blo…
Several articles published by ZdG during 2021 have had an impact and led to opening criminal cases or sanctions. The investigation "Concrete Instead of Trees in a Chișinău Forest" brought to the public's…
"I left the unit out of fear. I joined the army to do military service and not to let someone mock me. (…) The superiors reacted aggressively. I learnt nothing from the military service: I made repa…
"Fighting corruption is a very important process that we engage to complete; the country's strategy, however, must focus on education." A year after the inauguration of Maia Sandu as President…
-
-
-
barista oat milk
-
Tipobet Giriş
-
Tempobet