Moldova reports 142 new cases of coronavirus, all of them are local transmission cases.
The number of people infected with the new type of coronavirus reached 17,814. At the same time, 10,718 people recovered, while the number of COVID-19 deaths reached 585. 
Today, the authorities performed 835 tests, from which 231 are repeated tests.  Until now, Moldova performed over 100,000 tests, less than its neighbors Ukraine (over 700,000 tests) and Romania (around 800,000 tests).
Of the total number of cases on this day, 14 are medical workers: doctors – three, nurses – 10, support staff – one.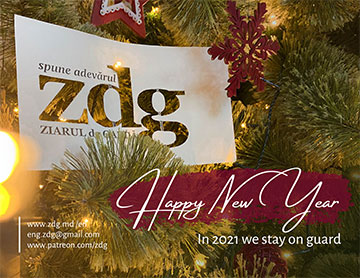 Cristina Dulea
30 May 2020
In 2020, the website www.zdg.md hosted the most readers in its history: 5 million. The news, surveys, interviews, and reports of ZdG journalists were read, distributed, and discussed both online and in many loc…
Last week President of Moldova, Maia Sandu withdrew Pavel Abraham from the Commission for the selection of candidates for the position of judge at the European Court of Human Rights (ECHR). As a follow-up, the…
Dumitru Cernea is 86 years old. He dedicated 57 years of his life to the work of an engineer. He is now retired and currently lives in Chișinău. He is one of the 10,000 subscribers of Ziarul de Gardă. One day,…
President Maia Sandu had a meeting with the head of the OSCE Mission to Moldova, Claus Neukirch. The officials discussed several issues, in particular, the settlement of the Transnistrian conflict. President Ma…
Moscow cannot forgive President Maia Sandu's statement on the need to withdraw Russian troops from the breakaway Transnistria region, made right after her election win. The subject is periodically resumed…
After the meeting with the president, Volodymyr Zelenskyi, Maia Sandu, also had a meeting with the president of the Ukrainian parliament, Dmytro Razumkov, and a separate meeting with the Ukrainian prime-ministe…