The doctor Ștefan Gațcan was a deputy in the Socialist Party. Several hours after he announced that he wants to leave the Socialist Party and stated that he wanted to join the newly formed Pro Moldova Party, led by Andrian Candu, the godson of Moldova's oligarch Vladimir Plahotniuc, Gațcan disappeared from Moldova, tendering his resignation as deputy.
In his first 100 days in politics, Gațcan climbed on the political career ladder. However, it was very clear that the swift rise would soon end up in a political collapse.
Gațcan collapsed from politics into a stinking mud pit. A few hours after giving up on politics, he hid in a vineyard and announced that he "needs rehabilitation."
In a medical institution, as in a medical career, is vital to be clean. However, now, even if he retires from politics to his private clinic, his past in politics will haunt him everywhere.
Gațcan started his political career accepting money from controversial politicians while serving as director of a state medical institution.
Since 2012, Gațcan had countless meetings with Plahotniuc, who allegedly donated some money to the Mother and Child Institute, where Gațcan was a director. Obviously, there was no transparency in the financial documents. However, the justice system did not work, and Gațcan made new political relations that led him to political ascension and finally, but later to downfall.
His last political upswing began in early 2020 when he ran in an election campaign in Hâncești district, the center of Moldova. Maybe Plahotniuc, his former colleague of charitable and political campaigns, convinced Gațcan to take part in the elections or maybe Gațcan was blackmailed and coerced to take part in the elections. He also could have run for local elections out of pure love for the Socialist Party or maybe he really took an interest in politics. We hope to find out his real motive for running for local elections.
It was a controversial mandate in the Parliament, won by the vote of the people taken out to elections in a time of the pandemic. Gațcan became a deputy with the vote of 5,500 people, while the campaign cost him tens of thousands of euros.
According to several documents, members of the Socialist Party donated money for Gațcan's electoral campaign. Meanwhile, the people in Hâncești district, mention that they received different goods, including gas bottles. However, these expenditures were not recorded in the Socialist Party's financial statements.
The doctor and the politician Gațcan promised voters and all citizens to work on health projects, together with the team of the Socialist Party.
During his three-months mandate, he did not manage to do too much, but he actively promoted the cause of the Socialist Party.
On June 5, Gațcan together with President Igor Dodon announced the Year of the Medical Worker. On June 16, Gațcan promoted on his Facebook page Dodon's action plan for the Medical Worker Year. On June 23, Gațcan shared a post written by a Socialist Party deputy, praising the Socialist Party government. During all this time, deputy Gațcan did not issue any critical remark towards the Government. None. Just praise.
On June 28, deputy Gațcan submitted a request to the leadership of the Parliament, announcing his retirement from the Socialist Party faction and joining Pro Moldova Party, led by Plahotniuc's godson Andrian Candu.
"I ascertain no progress and no effective measures to save the medical system, and I regret that the voices of many experts are not heard. (…) Instead, I am deeply impressed by the courage, selflessness, and strength with which the new political party Pro Moldova fights for the interests of citizens and the country. Their latest actions and initiatives, especially in the social field, fully represent me," Gațcan wrote in a post on June 30.
July 1, 2020, was a memorable day. From morning to evening, the Socialist and the Pro Moldova Parties parliamentarian factions made controversial declarations. The Socialists stated that Gațcan admires the Socialist Party, while the Pro Moldova Party stated that Gațcan admires their party. Later on, statements that Gațcan was kidnapped and then that he was released appeared on the internet.
At the end of the day, the deputy himself appeared in a video in which he says that "he needs rehabilitation". I am not sure if the electorate from Hâncești will trust Gațcan ever again.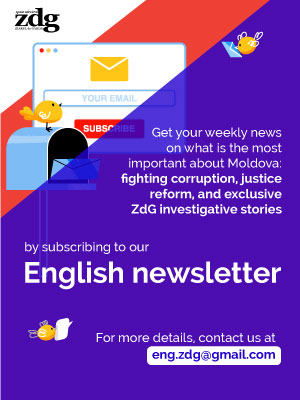 14 January 2021
While looking for interesting local people to invite to the Moldovan-American Convention MAC8 in Seattle, that will be held between September 30th and October 2nd 2022, I found Vladislav Zotea, a mountain climb…
Starting with his own life story, in 2010, Jasminko Halilovic, originally from Bosnia and Herzegovina, began documenting a book about children growing up in war times. Meanwhile, meeting dozens of people who we…
Roskomnadzor (Federal Communications, Information Technology, and Media Surveillance Service) ordered Ziarul de Gardă to delete an article about Russia's war on Ukraine and asked Internet operators to blo…
Several articles published by ZdG during 2021 have had an impact and led to opening criminal cases or sanctions. The investigation "Concrete Instead of Trees in a Chișinău Forest" brought to the public's…
"I left the unit out of fear. I joined the army to do military service and not to let someone mock me. (…) The superiors reacted aggressively. I learnt nothing from the military service: I made repa…
"Fighting corruption is a very important process that we engage to complete; the country's strategy, however, must focus on education." A year after the inauguration of Maia Sandu as President…
-
-
barista oat milk
-
yatırımsız deneme bonusu