Moldova is celebrating this years' European Union (EU) Sustainable Energy Week by offering virtual tours of the country with support from the EU-funded project 'Covenant of Mayors East'.
During the EU Sustainable Energy Week, people can travel online to several cities and villages in Moldova. The tours are guided by the cities' mayors and deputy mayors, who share information about how their localities are changing and fulfilling the commitments under the EU initiative 'Covenant of mayors for climate and energy'.
The most interesting and innovative tours will receive an award by the Covenant of Mayors East team in Moldova. The jury will also take into consideration public opinion. Some of the virtual tours include:
A guided tour through the city of Ialoveni by Deputy Mayor Radu Chilaru. Find out more.
A guided tour through the city of Strășeni by Mayor Valentina Casian. Find out more.
A guided tour in the city of Cimișlia by Mayor Sergiu Andronachi. Find out more.
This year, the EU Sustainable Energy Week (EUSEW) runs from June 22 until June 26. The event is held virtually. The overall topic of the event is – Beyond the crisis: clean energy for green recovery and growth.
The EUSEW is the biggest event dedicated to renewables and efficient energy use in Europe. It is organized by the European Commission and brings together public authorities, private companies, non-governmental organizations, and consumers to promote initiatives for saving energy and moving towards renewables for clean, secure, and efficient power.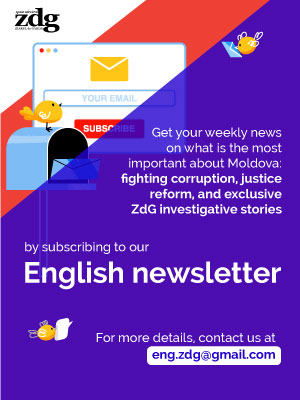 Diana Severin
22 July 2020
While looking for interesting local people to invite to the Moldovan-American Convention MAC8 in Seattle, that will be held between September 30th and October 2nd 2022, I found Vladislav Zotea, a mountain climb…
Starting with his own life story, in 2010, Jasminko Halilovic, originally from Bosnia and Herzegovina, began documenting a book about children growing up in war times. Meanwhile, meeting dozens of people who we…
Roskomnadzor (Federal Communications, Information Technology, and Media Surveillance Service) ordered Ziarul de Gardă to delete an article about Russia's war on Ukraine and asked Internet operators to blo…
Several articles published by ZdG during 2021 have had an impact and led to opening criminal cases or sanctions. The investigation "Concrete Instead of Trees in a Chișinău Forest" brought to the public's…
"I left the unit out of fear. I joined the army to do military service and not to let someone mock me. (…) The superiors reacted aggressively. I learnt nothing from the military service: I made repa…
"Fighting corruption is a very important process that we engage to complete; the country's strategy, however, must focus on education." A year after the inauguration of Maia Sandu as President…
-