The Prosecutor General, Alexandr Stoianoglo, requested the United States of America to extradite the former leader of the Democratic Party, Vladimir Plahotniuc, who is charged of involvement in the "Billion Theft".
On June 17, the Prosecutor General sent to the U.S. all the documents for Moldova's tycoon extradition.
"The extradition request is based on the United Nations Convention against Transnational Organized Crime, adopted in New York on November 15, 2000, ratified by Moldova on October 16, 2005, as well as on the basis of the principle of reciprocity," the Office of the Prosecutor General.
At the same time, the Anticorruption Prosecutor's Office sent to the U.S. authorities a request for an investigative commission, requesting Plahotniuc's criminal prosecution, and the investigation of the origin of his assets in the U.S.
In the next few days, the Prosecutor's Office for Combating Organized Crime and Special Cases (PCCOCS) is to send a request for an investigative commission to the U.S. authorities related to another criminal case against Plahotniuc.
Both requests for an investigative commission are submitted in order to adduce evidence necessary to confirm the accusations brought against Plahotniuc and to identify and freeze Plahotniuc's assets obtained in an illegal way, as well as to recover the damage caused by the fraud of the banking system.
On May 22, 2020, the court allowed the PCCOCS to issue an arrest warrant in the name of Plahotniuc. The issuance of this preventive measure took place after the prosecutors charged Plahotniuc with accusations of scam, money laundering, organization, and leadership of a criminal organization. For these crimes, the law provides for up to 15 years in prison.
Plahotniuc left Moldova in June 2019, after the Democratic Party led by him was ousted by a coalition formed by the ACUM Bloc and the Socialist Party. The coalition broke apart in November 2019.
Following Plahotniuc's departure from the country, several criminal cases have been initiated against him. In March 2020, the U.S. Embassy in Chișinău confirmed that Plahotniuc is on U.S. territory.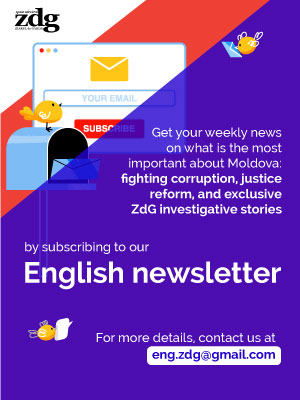 Nicoleta Braghis
19 July 2020
While looking for interesting local people to invite to the Moldovan-American Convention MAC8 in Seattle, that will be held between September 30th and October 2nd 2022, I found Vladislav Zotea, a mountain climb…
Starting with his own life story, in 2010, Jasminko Halilovic, originally from Bosnia and Herzegovina, began documenting a book about children growing up in war times. Meanwhile, meeting dozens of people who we…
Roskomnadzor (Federal Communications, Information Technology, and Media Surveillance Service) ordered Ziarul de Gardă to delete an article about Russia's war on Ukraine and asked Internet operators to blo…
Several articles published by ZdG during 2021 have had an impact and led to opening criminal cases or sanctions. The investigation "Concrete Instead of Trees in a Chișinău Forest" brought to the public's…
"I left the unit out of fear. I joined the army to do military service and not to let someone mock me. (…) The superiors reacted aggressively. I learnt nothing from the military service: I made repa…
"Fighting corruption is a very important process that we engage to complete; the country's strategy, however, must focus on education." A year after the inauguration of Maia Sandu as President…
-
-
eskort
-
eskort eskişehir
-
-
barista oat milk