Socialist Oleg Teterea, one of President Igor Dodon's oldest and most devoted friends and comrades tendered his resignation as a deputy in the parliamentary Socialist Party faction. Teterea did not publicly comment on the reason for his resignation, but his party colleagues later announced that Teterea is resigning as a deputy in favor of another function, which is not compatible with that of a deputy.
ZdG called Teterea's party colleagues, but they told us that they do not know anything about Teterea's new function. Later on, we've learned that deputy Oleg Teterea was appointed director of Chișinău-Gaz, a natural gas supplier. The appointment was not publicly announced.
ZdG asked Chișinău-Gaz about Teterea's appointment, but the company claimed that they will be able to give us details only after the press service will return to work, after May 18. ZdG asked the same question the Moldovagaz, the biggest energy company in the country.
The Socialist Party deputy, Oleg Teterea tendered his resignation as deputy in the Parliament for a new function. The information about the deputy's appointment as director of Chișinău-Gaz has not yet been officially communicated. However, ZdG sources told us that Teterea is Chișinău-Gaz's director since April, but this has not yet been made public.
ZdG phoned Teterea's colleagues to find more information. However, only Vasile Bolea and Grigore Novac, two Socialist Party deputies answered us, telling that they do not know anything about Teterea's new function. We called Oleg Teterea, but he did not answer the phone or messages.
ZdG called the Chișinău-Gaz, but they told us that they will give us an answer after May 18 when the press service will be back, at work.
ZdG spoke with Alexandr Barbov, public relations specialist at Moldovagaz. He informed us that Oleg Teterea has been the director of Chișinău-Gaz since April 17, even if this has not been publicly announced. We tried to establish how Teterea managed to be appointed in that function. Subsequently, we've asked for the proposal that forwarded the candidacy of the Socialist deputy as chair of Chișinău-Gaz.
"There was no proposal from political actors or pressures from anyone. Mr. Teterea was appointed due to his professional skills, which are not related to his former status as a deputy," says Alexandr Barbov.
We asked what conditions must meet a candidate for the function of the head of Chișinău-Gaz. Barbov told us that the candidate must "have the necessary wisdom, experience and training." We also asked about the studies and Barbov told us that the person would need to have a bachelor degree in economics or management, and Teterea meets this condition.
We also tried to find out what salary deputy Teterea will receive from Chișinău-Gaz. However, the representatives of Moldovagaz told us that the answer to this question is related to the field of personal data and corporate confidentiality. Therefore, their disclosure is not admissible and even legal without Teterea's personal content.
The former director of Chișinău-Gaz, Ruslan Garbalî, who resigned from the function last autumn, declared for 2019 a salary of over 17,600 euros (340,000 lei).
Who is Oleg Teterea
Previously, ZdG wrote about Oleg Teterea in the All the President's Men investigation. Teterea is a member of the Socialist Party and he also was part of the Socialist parliamentary faction. He is Dodon's oldest and most devoted friend.
Oleg Teterea was one of the owners of the Hunter Elit Club company. In 2008 the company managed to lease 168.7 ha of forests in Călărași, Bravicea Forest, with annual fees of only 16 euros (315 lei) per hectare. At that time, Dodon, who is known for his passion for hunting was the Minister of Economy.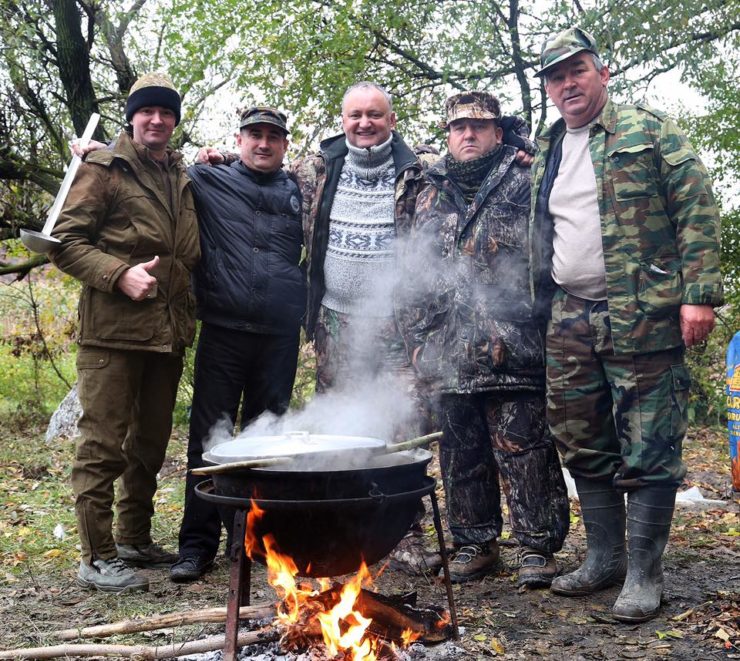 In 2013, the Superior Court of Justice ordered the termination of the lease between Moldsilva, the central administrative authority in forestry and Hunter Elit Club.
Oleg Teterea officially owns 90 percent of the Tedar Investment company, which until September 2019 was called Tedar-Auto and deals with car repairs. The sister of his wife, Alla Darovannaia, is his partner in managing the business.
Larisa Teterea, Oleg Teterea's wife, has been deputy chief accountant at Victoriabank for several years. Her sister, Ala Darovannaia, became a deputy in the Socialist Party following the February 2019 parliamentary elections.
Teterea's family lives close to Dodon's family. Spouses Oleg and Larisa Teterea live in a  five-room apartment with an area of ​​165 square meters, located on the 10th floor. Since April 2006, they have been investing in the apartment. And in 2014, they registered it in their name.
While looking for interesting local people to invite to the Moldovan-American Convention MAC8 in Seattle, that will be held between September 30th and October 2nd 2022, I found Vladislav Zotea, a mountain climb…
Starting with his own life story, in 2010, Jasminko Halilovic, originally from Bosnia and Herzegovina, began documenting a book about children growing up in war times. Meanwhile, meeting dozens of people who we…
Roskomnadzor (Federal Communications, Information Technology, and Media Surveillance Service) ordered Ziarul de Gardă to delete an article about Russia's war on Ukraine and asked Internet operators to blo…
Several articles published by ZdG during 2021 have had an impact and led to opening criminal cases or sanctions. The investigation "Concrete Instead of Trees in a Chișinău Forest" brought to the public's…
"I left the unit out of fear. I joined the army to do military service and not to let someone mock me. (…) The superiors reacted aggressively. I learnt nothing from the military service: I made repa…
"Fighting corruption is a very important process that we engage to complete; the country's strategy, however, must focus on education." A year after the inauguration of Maia Sandu as President…
-
-
-
barista oat milk
-
Tipobet Giriş
-
Ligobet