Photo source: Vlad Melnic/ Facebook
11 September 2023 | 16:51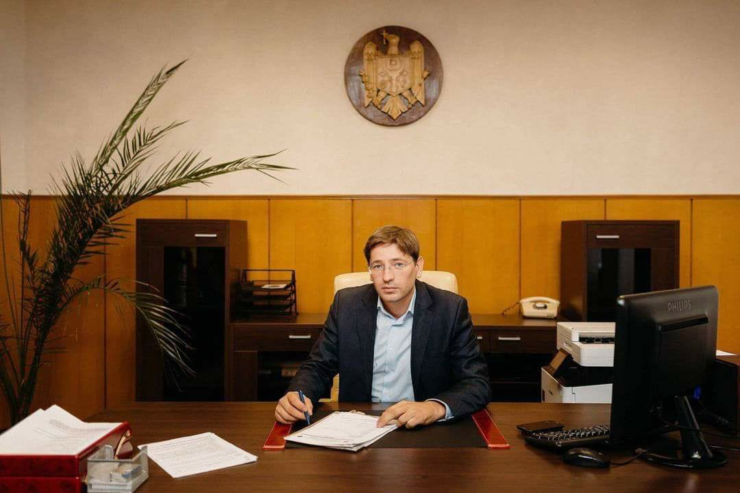 Former Râșcani District mayor Vlad Melnic says he learned from the press "with puzzlement and misunderstanding" that the capital's mayor, Ion Ceban, decided to dismiss him. He says that over the past six months he has been asked to join the National Alternative Movement Party (MAN), founded by Ion Ceban, but he has not accepted.
Vlad Melnic's reaction comes a few hours after the capital's mayor announced that the Râșcani sector's Pretura has a new pretor, without giving too many details.
After the Chisinau City Hall meeting, Ziarul de Gardă asked Natalia Ixari, the capital's mayor's spokeswoman, whether Vlad Melnic had resigned or been dismissed, but we did not receive an answer.
Vlad Melnic claims that "about legal and other steps" he will announce later.
"Over the course of more than four years we have gotten to know and become close with many of you. Within and around the price we have built a dynamic, active and efficient team. In Râșcani and Poșta Veche we have succeeded in achieving qualitative infrastructure transformations, we have restored cleanliness and order. We have boosted the work of the municipal services. We have landscaped most of the courtyards, repaired roads and pavements, rehabilitated and built parks and rest areas, green spaces. We have improved public transport. We took care of educational and health institutions, made repairs, bought furniture and technical equipment. We took care of pensioners and disabled people, youth and sportsmen.

The Pretura (town hall, ed.) of the sector has become open for dialogue and solving citizens' problems. As a result, today we are justifiably proud that the Rascani sector is the most developed and developed sector.

It was with puzzlement and incomprehension that I learned from the press that Ion Ceban decided to dismiss me. Without respecting the law. Without a simple, respectful discussion with me, at least that I deserved and what was the right thing to do in relation to the team and the people. Without simple words "thanks for the job". This, of course, requires wisdom and dignity. Such behaviour is unacceptable.

I will announce the legal and other steps later. But, I understand, that I made the right decision not to write the application in MAN. For that is exactly what I have been asked to do for the past six months. Appreciation and evaluation should be for dedication and hard work, but not for a party card.

Thank you to our friendly staff, city councillors, borough and town hall employees, business agents and the undifferentiated people with whom we have been and will continue to be close. The realization of hundreds of projects – in Rascani sector and in Chisinau – is your merit!", said Vlad Melnic in a post on his Facebook page.
Meanwhile, Bloc of Communists and Socialists (BCS) MP Vlad Bătrîncea says he does not agree with the decision of the mayor of the capital, Ion Ceban, on the dismissal of the former pretor of the Rascani district Vlad Melnic.
"(…) Vlad Melnic was the best pretor of Rascani sector ever. Through his efforts and with the support of our team, order was restored, major infrastructure projects were initiated and a great deal of work was accomplished. During his work, Vlad Melnic was among the people, listened to the people and worked for the people (…)," said Bătrîncea in a post on his Telegram account.
On Monday, September 11, Mayor Ion Ceban announced that Mihai Furculiță is the new praetor of the Rascani district.
Vlad Melnic came to the helm of the Riscani District in July 2019.
While looking for interesting local people to invite to the Moldovan-American Convention MAC8 in Seattle, that will be held between September 30th and October 2nd 2022, I found Vladislav Zotea, a mountain climb…
Starting with his own life story, in 2010, Jasminko Halilovic, originally from Bosnia and Herzegovina, began documenting a book about children growing up in war times. Meanwhile, meeting dozens of people who we…
Roskomnadzor (Federal Communications, Information Technology, and Media Surveillance Service) ordered Ziarul de Gardă to delete an article about Russia's war on Ukraine and asked Internet operators to blo…
Several articles published by ZdG during 2021 have had an impact and led to opening criminal cases or sanctions. The investigation "Concrete Instead of Trees in a Chișinău Forest" brought to the public's…
"I left the unit out of fear. I joined the army to do military service and not to let someone mock me. (…) The superiors reacted aggressively. I learnt nothing from the military service: I made repa…
"Fighting corruption is a very important process that we engage to complete; the country's strategy, however, must focus on education." A year after the inauguration of Maia Sandu as President…
-
-
barista oat milk
-
yatırımsız deneme bonusu