Every year, on 31 August, the Day of the Romanian Language is celebrated in Moldova and Romania. The celebration has its roots in 27 August 1989, when the first Great National Assembly, attended by some 750 000 people, called for the declaration of Romanian as the state language in the Moldovan Soviet Socialist Republic (MSSR) and the switch to Latin script.
Although 34 years have passed since then, the Romanian language is still not the "sole master" throughout the country. In the Transnistrian region, for example, Romanian is spoken only sporadically, mainly thanks to teachers who have continued to teach it to pupils despite all the obstacles. ZdG spoke to Ala Mîrza-Turbal, a teacher of Romanian language and literature at the "Evrika" high school, the only Romanian-language high school in Ribnitsa on the left bank of the Dniester.
— What's it like to be a Romanian language and literature teacher at the only Romanian-language high school in the Transnistrian town of Ribnita?
— It's not easy. We operate in an unfavourable linguistic environment. Students in our high school do not have access to Moldovan television, they cannot get magazines, newspapers in Romanian. We use the Internet. We have a small library, a reading room. In the summer of 2004, the high school was arrested. Then, in that difficult year, we started working only in October, in a kindergarten on the banks of the Dniester, without a field and a sports hall, without a canteen, in difficult conditions. Now, we have a canteen, a classroom set up for sports. Chisinau pays the rent of the kindergarten, and the spacious classrooms of our high school are still locked today.
— Why did you choose to teach in Rîbnița in particular and why, with the passage of time, did you not want to return to Chisinau, where you studied at the Pedagogical Institute, or to Abaclia, your native village?
— It was not my wish. It was the circumstances. In 1985, I was working in the school in Sadaclia, a big, beautiful village dear to my heart. My husband was called to Chisinau and sent to work in Râbnița, as a judge. I didn't want to come to this town, because there were no kindergartens or schools teaching in our language, but my mother said: "Thread first, and only then needle…"
When my daughter was supposed to go to kindergarten, I insisted on opening the first Moldovan group in a preschool on our street. I worked for a few years in Russian school No. 6. Then a whole kindergarten opened. Together with my friends, I organized a literary circle in the city, MATERNĂ. With the help of its members, we found many children for our new kindergarten.
Later, our children went to their first primary school. Mrs. Veronica Botan and Mrs. Eugenia Halus, the current Director of the Theoretical High School "Evrica", helped us a lot to open it. When the first 5th grade appeared, I resigned from the Russian school and was employed in our school, which later became a high school.
Why didn't I leave Ryabnitsa? We always had good pupils, their parents supported us, they trusted us… We had to teach the children of the Moldovans here, since so much work had gone into opening the school. There was another cause. My husband died in 2004, in March, and in the summer they arrested our high school. I couldn't leave his grave here alone. I didn't want to take my kids out of their classes. I couldn't part with my students, my beloved colleagues, with whom I guarded the high school day and night, but we were defeated, because those who took it from us had guns…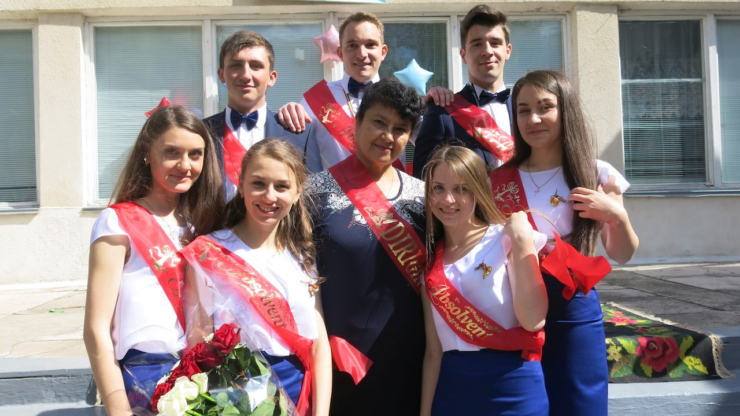 — What is missing in Ribnita for a teacher of Romanian language and literature? What is the state not doing and what should it do to encourage these teachers and the Romanian language in general in this area?
— A lot is missing. It's hard to work when you can't recommend to students, for example, programmes they should watch. Watching the programmes needed to enrich vocabulary, knowledge about the country, nation, traditions, etc., specifically in Romanian, would make the teacher's work much easier, preparing pupils for life, for exams. The Internet is often very poor and not everyone has it. Sometimes I try to watch the "Mesager" at least, but it is interrupted, there are long breaks. I don't even talk about watching some Romanian TV shows. I can still watch something when I go to Abaclia. We don't have the right here… Who can help us? The state couldn't solve the problem of the return of the headquarters or the television. The causes are objective.
We are supported, however, if it's about textbooks (but not all of them correspond to the Curriculum), the rent of the kindergarten, the payment for communal services, for the Internet, the provision of ICT, furniture, interactive whiteboards and other necessary things, the salary for teachers and other employees of the high school. Our students can have breakfast, lunch in the canteen of the high school. We have three buses, not too big, which bring to the high school students from the city and from the villages of Rybnitsa district.
— Your students say that you are one of the few people who manage to be both a good teacher and a friend of the students, that you are a person who always knows how to listen, understand and give advice. You sacrifice a lot for the vocation you have, but it changes thinking, it changes people! What is the secret? How do you manage to combine all this into a whole?
— I think that comes from family. Since I was a child, I used to see how my mother talked to her students, how she took care of them, I attended her physics and mathematics lessons and I wanted to become a teacher. When I went to the kindergarten in Abaclia village, I always defended a little boy who was teased by others, in the primary classes, I tried to do justice when several children were offended (in the class – 42 pupils). That's how I grew up… Great teachers were and remain a good example for me: my mother's brother, a university professor of mathematics, his wife, a French teacher, my mother's sister, a teacher of Romanian language and literature, her husband, a geography teacher, her cousins, her cousins, also teachers.
An ideal teacher was my Romanian language and literature teacher, Vitalie Ciobanu, a gifted pedagogue, who could do everything: superb lessons, great extracurricular activities, who painted, sang, danced, recited beautifully, organized excursions, who had a large library, from which he gave me many interesting books to read. He and my mother's sister, Maria Panî, have grafted in my soul the love for His Holiness, the Word.
My good teacher is not among us any longer, but I often remember his advice. I was always fortunate to have good classes, wonderful students. Maybe that's also because when a problem arose, I would remember my headmaster, wonder how he would solve it and find the solution. Often I also remembered the advice of my dear college professors.
Students need not only knowledge, but also understanding, kindness, love, humanity… For them, the teacher must be a model of diligence, devotion, responsibility, care, altruism…etc. That's what I learned from our whole dynasty of teachers and from my teachers.
— Is it hard to be a teacher today in Moldova? Why is this profession no longer attractive? According to some data from this year's university admissions, pedagogical specialties are the most unattractive.
— Some of my former students have become Romanian language and literature teachers, but they don't all work in the school. Some have decided to go abroad, others have better paid professions. The salary… Yes, they increased it, but… "A good teacher has to read a lot, study all the time, go to a show… He has to have a higher salary, which allows him to hire a housekeeper. She has to wash the windows, and the teacher has to make the necessary materials for his classes, study the literature." That's what my husband used to say when he saw how long it takes me to prepare for class and check my notebooks… Maybe it will be like that someday. Now – high demands, lots of work, too many reports, regulations, methodologies, meetings, councils, checks, etc., and pay can't keep up with inflation. Students see this and don't really want to link their future to working in schools.
One more thing: I think some regulations, MEC decisions, etc., need to be reviewed, changed, especially, homework requirements. That's my opinion, and that of many colleagues. Do we want young people to come into education? We need to think carefully about a number of issues in education, including pay, otherwise we are losing the wonderful young people who are needed in schools by current and future generations, young people who are going abroad. The good life of a country's citizens depends very much on how much and how well it invests in education.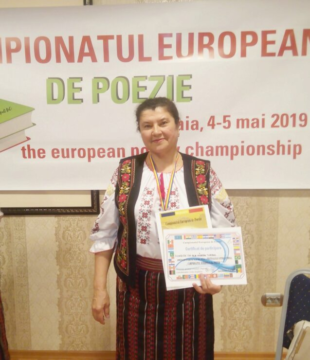 — Do you see a reintegration of the Transnistrian region into Moldova as possible or do you think a complete break-up is more viable?
— Total break-up? And where, to whom does that leave us? Many people say this and it hurts my heart… It will be possible to reintegrate only if the economic situation, the salaries of people on the right bank of the Dniester are better, if medicine is more developed, if agriculture is supported more by the state, etc. In fact, I have already heard phrases like: "Over there (customs), doctors also have higher salaries, and teachers, but here… Too bad that not everyone can find work across the Dniester, in Rezina."
— How has Russia's war in Ukraine changed the perception of the Transnistrian people about Moldova, reintegration, Romanian language?
— Opinions are divided… There is a lot to say, but I will answer only this: Romanian language courses for adults are organized on the basis of our high school, and we have a lot of people who want to learn Romanian. There are now two groups of 25 people. For the autumn months, we still have about 100 people on the list. We're trying to keep up with demand. But there are also many people shouting (I even heard in the street) indecent words against Ukrainians, who draw Z's on cars and put the Russian tricolour in the saloons. With regret.
— How much Romanian can be heard in the Transnistrian region? And where is it still spoken?
— It is spoken in high school, in the city – less. It is spoken by people from Mocra, Ofatinti, Molochis, Butuceni, Jura, Mihailovca and other localities, but it is a language with many rusticisms. It's hard for pupils from the villages to learn here, but we're glad they come and want to study.
— There are problems in other parts of the country too. Why do you think that when you are in Chisinau, for example, but also in many other regions of Moldova, you sometimes have the feeling that you are actually in a Russian city? Many services, many state officials, many business people use mainly Russian as a language of communication, and Romanian speakers have no choice but to conform to this reality. What do you think has been done wrong during this period, that we have not managed to build a state where everyone agrees that we speak one language, Romanian?
— Wrong? It's not now that this was done, but a long time ago. It's a lack of dignity, a careless attitude to national values. For two centuries in this land, a harsh policy of denationalization, of educating the 'mankurts', has been promoted. When I was a schoolgirl, a Comsomolist (this was the only way), I used to go to district conferences in Cimislia. In the hall – Moldovans, but in what language were all the speeches given? In Russian, because only one man, the second secretary of the District Committee of Comsomol, was a Russian speaker. Who are the state officials today? Many educated people in those days, when we were required to sing in the school choir only in Russian. We have to work with them, think carefully about who to choose.
We have to be realistic and understand that in Moldova we cannot force everyone to speak only Romanian, because there are many national minorities who must know and speak their mother tongue. Another thing is that we must, with patience, teach them Romanian. We should love it, first of all, we should speak it, correctly, beautifully, with pride, with dignity, so that others want to learn it. If we do not respect our national values, how will others respect them?
— What can we do from now on?
— What my colleagues and I do: we teach Russian speakers. We need to find funds, to equip schools with the necessary equipment, so that in the villages where there are more such speakers, Romanian language lessons can be taught in the evenings to all those who want them, as we do in Ribnitsa.
One more thing: When I came to this town, I used to go, for example, to the market. I used to tell the vendor:
'— Please give me two kilos of tomatoes.
— Что? ('What?', ed. from Russian)
— Two kilos of tomatoes, please.
— Говорите на человеческом языке! ('Speak to me in a human language!', ed. from Russian)'
Very calmly, I left him and addressed the one next to me, also in Romanian. It weighed on me, as they all, in fact, understood what I was asking. Now, I am understood by everyone…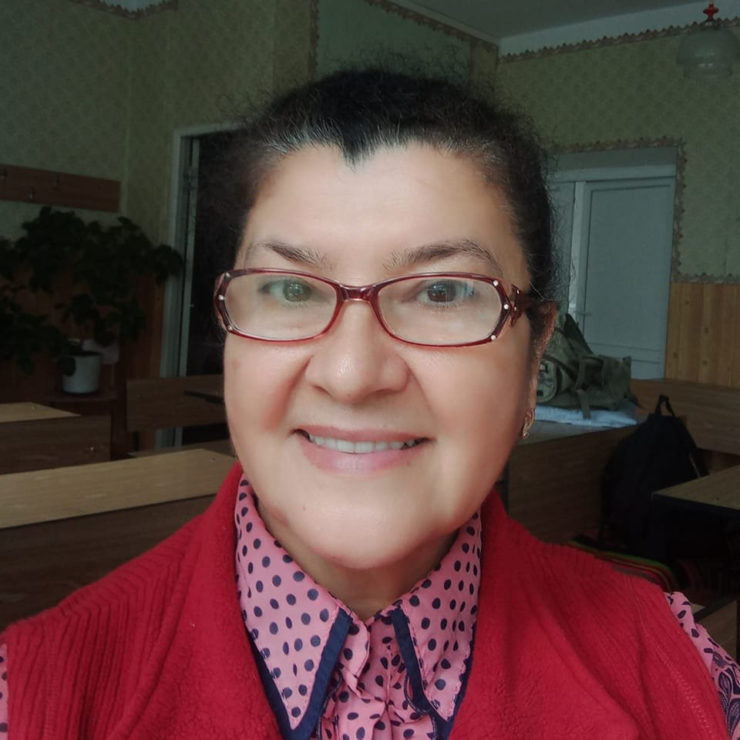 — How can Russian speakers in particular, but also representatives of other minorities, be motivated to learn Romanian? Why is there a lack of intrinsic motivation to do so?
— I said above. When we have dignity, a respectful attitude towards all that is beautiful and holy, others will respect us. You can't force something, only with work, responsibility, patience. I often walk to my high school in the morning and meet a teacher from a Russian school who, knowing who I am and where I work, greets me with an accent, but in Romanian: "Hello, teacher!" That's what she says, "ma'am", "teacher", as she has a hard time pronouncing our diphthongs, but I'm happy and reply in kind, with respect. Yes, there was that cruel policy of denationalization, but now are other times, we can study history, language, we must have DEMNITY, respect ourselves, first of all. As long as the government does not force, for example, to write the routes, on all coaches, according to the law, in Romanian (on many, from Comrat – in Russian), as long as it does not require all MPs, civil servants, vendors, etc. to take an exam in the state language, the situation will not change.
— But even those who speak it often do so with mistakes. Is the Romanian language that hard? What do you, as a teacher, think?
— It's not hard. It depends on who teaches them and how. Latin spelling isn't hard to learn either. When the decision was made to switch to the Latin alphabet, my pupils in the Russian school, Larisa Suveica's pupils, already at the end of September, were writing dictations, writing correctly, but then the riots started… Their parents were rioting in the square. A few years later, realizing that this was good for our language, many of them started asking us to teach their children…
We could read Latin script from childhood. Do you know what my first Romanian alphabet book was? The novel "Barefoot" by Zaharia Stancu. I was in the fifth grade. I found in the attic of our house, wrapped in rags, at the bottom of a crate, under many other things, this book. I was learning French and already knew the letters. I started reading and was amazed. The words were in our language! With the groups of letters and sounds, I couldn't really do it. I went to my father: What is this? The letters are from the French alphabet, but the words – ours! Poor Father! He asked me where I got it from, was reluctant to teach me how to read these groups, but then, at my insistence, he gave in and explained it all to me, with the understanding that this would be our secret, that no one at school should know, as they would release Mother from service, and take him away… I didn't say! I'm an easy learner. In a few days, curious, I read the novel. One only needs desire! One needs peace. They will learn.
— Many people, including politicians, call it Moldovan. Do you have a message for them?
— Short message: Learn it! Read Article 13 of the Constitution of the Republic of Moldova: "State language, functioning of other languages (1) The state language of the Republic of Moldova is the Romanian language, functioning on the basis of the Latin spelling." Respect Article 13. That's it.
— What are your favourite Romanian words and why?
— Ooooo, tough question. I'd say All, because words are my favourite occupation, I work with them, they also help me create lyrics, but I still have to study the DEX. I'll tell you just a few: Mother, Father, brothers, sister, husband, daughter, son, Abaclia, God, school, pupils, here, no need to explain; Romanian language, because it is the closest to my soul, I think in it, I work with it all my life; Country, because I want to see it, some day, … "dodoloață"; Carpathians, because I would always like to breathe freely, with their fresh air, up, closer to Heaven, because I have travelled them, with love, I was even in the Apuseni Mountains; sea, because I would never leave its waters for days; Eminescu, because my father, from the age of five, taught me his poems and I recited them on the stage of the village Cultural Centre; folklore, because my mother sang us doinas, folk songs and all day long, talking to us, she used proverbs and sayings: "Come on, get up, don't sit down, lest your luck run out! ", "He who gets up earlier in the morning, goes further!" etc.; theatre, because we often went to shows and all my life, at school, I led a dramatic circle. I staged "The Big House", "Homage to the Great Poet", "The Stone in the House", "This Distant Childhood", "Ion Druță – Soul of the Nation" and many other shows.
— What gift would you like to give to the Romanian language on 31 August and every day?
— Let ALL the inhabitants of this land study it, speak it beautifully, lovingly, appreciate its harmony, the wonderful possibilities it opens up.
— Besides promoting the Romanian language in a hostile environment, you also write poetry. In one of your poems you urge people to hug each other more often. Would frequent hugs solve some of the problems our country has?
— It certainly would. Hugging brings warmth, understanding, joy, health, it can say more than words, it can ease difficult situations, it can resolve conflicts, it can make friends, it can increase one's aura by a lot… It would be wonderful if all people on both sides of the Nistru and Prut rivers hugged each other…
— Thank you.
— You are welcome. Good luck in all you do. Happy birthday to all ZdG collaborators! Happy birthday to the ROMANIAN LANGUAGE!
Born on July 21, 1959, in the village of Abaclia, Basarabeasca district, Ala Mîrza-Turbal was a teacher of Romanian language and literature in the Soviet period at the Sadaclia Middle School in Basarabeasca district, and since 1990 she has been a teacher of Romanian language and literature at the Moldovan Middle School No. 12, which became the "Evrica" Theoretical High School, or. Râbnița, left bank of the Dniester. She has published two books and several anthologies, and has won prizes in several national and international poetry competitions. She holds the Order "Merit for Education" in the rank of "Knight", awarded by Decree of the President of Romania, Klaus-Werner Iohannis in 2019 and the "Mihai Eminescu" Medal, awarded by Decree of the President of the Republic of Moldova in 2012.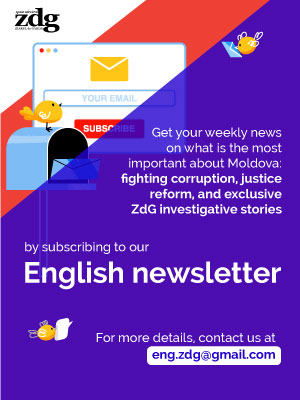 Press Release
05 June 2020
While looking for interesting local people to invite to the Moldovan-American Convention MAC8 in Seattle, that will be held between September 30th and October 2nd 2022, I found Vladislav Zotea, a mountain climb…
Starting with his own life story, in 2010, Jasminko Halilovic, originally from Bosnia and Herzegovina, began documenting a book about children growing up in war times. Meanwhile, meeting dozens of people who we…
Roskomnadzor (Federal Communications, Information Technology, and Media Surveillance Service) ordered Ziarul de Gardă to delete an article about Russia's war on Ukraine and asked Internet operators to blo…
Several articles published by ZdG during 2021 have had an impact and led to opening criminal cases or sanctions. The investigation "Concrete Instead of Trees in a Chișinău Forest" brought to the public's…
"I left the unit out of fear. I joined the army to do military service and not to let someone mock me. (…) The superiors reacted aggressively. I learnt nothing from the military service: I made repa…
"Fighting corruption is a very important process that we engage to complete; the country's strategy, however, must focus on education." A year after the inauguration of Maia Sandu as President…
-