Source: CNA/Facebook
The chief architect of Hincesti district was detained on the morning of Monday, May 5, by officers of the National Anti-Corruption Centre (NAC) in connection with cases of passive and active bribery and abuse of office, which are being prosecuted by the Prosecutor's Office for Combating Organised Crime and Special Cases (PCCOCS), the NAC announced. The official is suspected of collecting illicit financial means for the completion of final acceptance permits for buildings in the district.
On Monday morning, the NAC and PCCOCS prosecutors carried out 16 raids targeting the homes and cars of 14 suspects, as well as the offices of local public administration institutions. The chief architect has been detained for 72 hours and the 14 persons are to be heard at the NAC headquarters.
According to public information, Elena Moraru has been the chief architect of Hincesti district since 2008.
According to NAC investigations, since 2022, the chief architect of Hincesti district together with public persons from the local public administration created a criminal scheme of systematically demanding and receiving money from administrators of legal entities, beneficiaries of real estate and intermediaries, in order to issue final acceptance documents for constructions already built.
From the information obtained in the framework of the special investigative measures, it was found that only the advance payment for the preparation of the documents was 3 000 lei, and during the period of documentation, documents were issued for at least 12 buildings, mainly houses on the ground.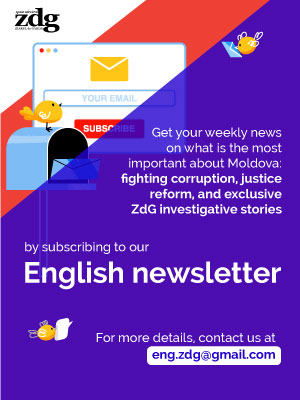 09 December 2020
While looking for interesting local people to invite to the Moldovan-American Convention MAC8 in Seattle, that will be held between September 30th and October 2nd 2022, I found Vladislav Zotea, a mountain climb…
Starting with his own life story, in 2010, Jasminko Halilovic, originally from Bosnia and Herzegovina, began documenting a book about children growing up in war times. Meanwhile, meeting dozens of people who we…
Roskomnadzor (Federal Communications, Information Technology, and Media Surveillance Service) ordered Ziarul de Gardă to delete an article about Russia's war on Ukraine and asked Internet operators to blo…
Several articles published by ZdG during 2021 have had an impact and led to opening criminal cases or sanctions. The investigation "Concrete Instead of Trees in a Chișinău Forest" brought to the public's…
"I left the unit out of fear. I joined the army to do military service and not to let someone mock me. (…) The superiors reacted aggressively. I learnt nothing from the military service: I made repa…
"Fighting corruption is a very important process that we engage to complete; the country's strategy, however, must focus on education." A year after the inauguration of Maia Sandu as President…
-
-
barista oat milk
-
yatırımsız deneme bonusu