Source: PCCOCS photo capture
Dorin and Valeriu Merzâncu, about whom Ziarul de Gardă wrote in the investigation "Forest thieves (II). The fight of a dynasty of foresters with the system and the relations in justice", are targeted in the case of illegal deforestation of over 1400 trees in Hâncești, according to ZdG sources. The Prosecutor's Office for Combating Organized Crime and Special Cases (PCCOCS) announced that damages of over half a million lei have been identified in this case, and 13 searches have been authorized in Hincesti and Chisinau.
Master forester Dorin Merzâncu, son of Valeriu Merzâncu, head of the Bujor Forestry Office, accused of involvement in schemes that leave the country's forests without trees, threatened us in June 2021 that one day "someone will hit us on the head with a lom" and intimidated us, driving his car towards the ZdG reporter.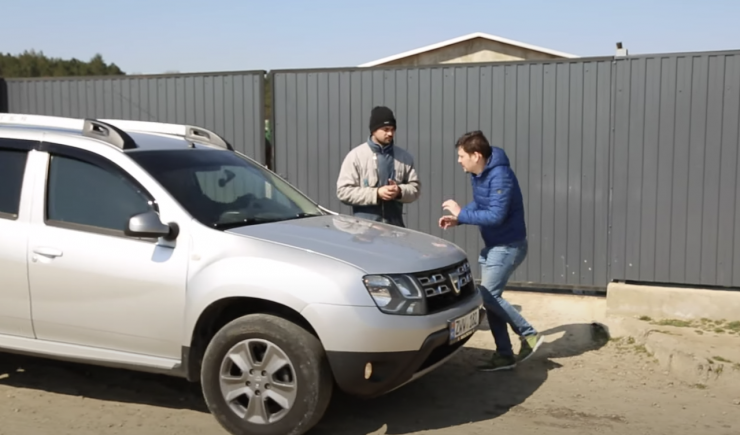 His actions took place while the ZdG reporter was documenting his family's activity in the timber business, after a denunciation filed with the law enforcement authorities by several former and current foresters revealed the way in which timber was stolen from the forests located on the territory of the district of Hincesti. The document, also reviewed by ZdG, was signed and sent to state institutions after a family of foresters publicly revealed the illegalities committed by the head of a forestry office in Hincesti in December 2020.
On Monday, May 29, PCCOCS announced that prosecutors, officers of the National Investigation Inspectorate (INI) and the General Directorate of Criminal Prosecution (DGUP) of the Police are investigating a case of illegal deforestation of more than 1,400 trees in Hincesti, with a damage of more than 680 thousand lei. Thirteen searches have been authorised in Hâncești and Chisinau, including a pallet factory in the Hâncești district, PCCOCS said.
"Thus, law enforcement officers detected quantities of wood without documents of origin and collected for investigation accounting documents, unofficial registers about the money received and the wood under management at the forestry enterprise in Hincesti. They also found dozens of copies of the identity documents of the alleged intermediaries, through whom the timber was settled/traded, as well as powers of attorney from the town hall for the release/sale of timber to other persons," the Prosecutor's Office representatives said.
Law enforcement officers are continuing investigations to establish other aspects of the facts under investigation and to order a legal solution to the case, during which the parties are presumed innocent, according to the law.
While looking for interesting local people to invite to the Moldovan-American Convention MAC8 in Seattle, that will be held between September 30th and October 2nd 2022, I found Vladislav Zotea, a mountain climb…
Starting with his own life story, in 2010, Jasminko Halilovic, originally from Bosnia and Herzegovina, began documenting a book about children growing up in war times. Meanwhile, meeting dozens of people who we…
Roskomnadzor (Federal Communications, Information Technology, and Media Surveillance Service) ordered Ziarul de Gardă to delete an article about Russia's war on Ukraine and asked Internet operators to blo…
Several articles published by ZdG during 2021 have had an impact and led to opening criminal cases or sanctions. The investigation "Concrete Instead of Trees in a Chișinău Forest" brought to the public's…
"I left the unit out of fear. I joined the army to do military service and not to let someone mock me. (…) The superiors reacted aggressively. I learnt nothing from the military service: I made repa…
"Fighting corruption is a very important process that we engage to complete; the country's strategy, however, must focus on education." A year after the inauguration of Maia Sandu as President…
-
-
barista oat milk
-
yatırımsız deneme bonusu