Following a criminal case sent to trial, the Prosecutor's Office for Combating Organized Crime and Special Cases (PCCOCS) announces on Wednesday, May 24, the criminal prosecution of a man and a company for tax evasion of nearly 19 million lei.
The facts took place over four months in 2011, when the man, now 48 years old, organised fictitious transactions with other companies. Specifically, according to PCCOCS prosecutors, he received 30 stolen tax invoices from the company, on the basis of which the company would buy computers and accessories (even though the company supplied the retail chains with coffee, tea, chocolates, sugar). As a result of this illegal scheme, the company's VAT was reduced by almost 19 million lei in just four months, based on an artificial increase in the company's expenses.
"To this end, the man hired him in a company he had founded with his wife's cousin as a courier, with an attractive salary. After a few months, during which he had been responsible only for charging the defendant's telephone account and was asked to buy food for the cat, the courier was promoted to the position of administrator. In his new position, he was tasked with signing documents, including those 30 invoices stolen from the convicted company, without being made aware of the actual situation. Moreover, once the criminal prosecution was initiated, the defendant initially made him take the blame for the theft of those tax invoices, as well as hiring him a lawyer.
However, as a result of the investigations, the former director of the other company (the former courier), who had been manipulated by the defendant, admitted the real situation and the part known to him of the scheme set up by the defendant. His statement is supplemented by other evidence obtained by the State Tax Inspectorate and the police, under the direction of the prosecutor, proving his guilt and that of the company concerned in the sentence. Subsequent to these investigations, in 2017 the Prosecutor General ordered the management of the file by PCCOCS prosecutors, who in 2019 sent it to the Chisinau Court, Buiucani headquarters, for examination," PCCOCS representatives state.
Thus, by the pronounced sentence, it was ordered to collect for the benefit of the state the amount of almost 19 million lei. Until the final judgment is handed down, both the company and the accused man are presumed innocent, according to the law.
Currently, according to PCCOCS, the defendant is being investigated by other authorities and in other criminal cases (fraud actions).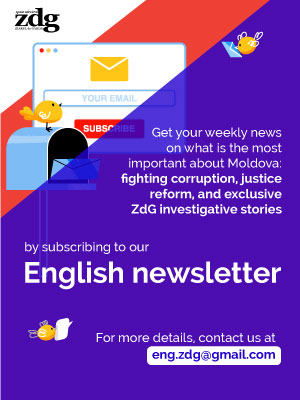 Alina Radu
08 December 2020
While looking for interesting local people to invite to the Moldovan-American Convention MAC8 in Seattle, that will be held between September 30th and October 2nd 2022, I found Vladislav Zotea, a mountain climb…
Starting with his own life story, in 2010, Jasminko Halilovic, originally from Bosnia and Herzegovina, began documenting a book about children growing up in war times. Meanwhile, meeting dozens of people who we…
Roskomnadzor (Federal Communications, Information Technology, and Media Surveillance Service) ordered Ziarul de Gardă to delete an article about Russia's war on Ukraine and asked Internet operators to blo…
Several articles published by ZdG during 2021 have had an impact and led to opening criminal cases or sanctions. The investigation "Concrete Instead of Trees in a Chișinău Forest" brought to the public's…
"I left the unit out of fear. I joined the army to do military service and not to let someone mock me. (…) The superiors reacted aggressively. I learnt nothing from the military service: I made repa…
"Fighting corruption is a very important process that we engage to complete; the country's strategy, however, must focus on education." A year after the inauguration of Maia Sandu as President…
-
-
barista oat milk
-
yatırımsız deneme bonusu