Authorities have temporarily secreted several information about the organization of the European Political Community Summit to be held in Moldova on June 1, "to avoid sabotage and disruption". Officials from the Ministry of Foreign Affairs and European Integration told us that "all expenses will be announced publicly after the summit".
However, Ziarul de Gardă has found that in the midst of preparations for the event, several works have been carried out, including tenders worth several hundred million lei to repair some roads leading to the private winery that will host the event.
But the section of road from Chisinau International Airport to Sangera remains unrepaired, because Chisinau City Hall says it has no money and is asking the government to cover the costs.
Moldova's expectations from the summit
Forty-seven presidents and heads of government, as well as European Union (EU) leaders, are expected to attend the 1 June event to discuss joint efforts for peace in the context of the war in Ukraine and related crises, defending democracy, strengthening energy security and the resilience of European states.
"We will debate vital issues related to war and peace, the future of Europe – the future of the 750 million people working on the European continent. We want to show that we are a reliable partner, ready to actively contribute to strengthening unity and security on the European continent. From a grey area unknown to many, Moldova will become the centre of Europe on 1 June. We have reason to be proud to host this historic meeting. In Paris, in Vienna, in Warsaw and in Rome, in all capitals, Moldova will soon be discussed", said President Maia Sandu at a press conference where she gave details of the event.
The first meeting of the European Political Community – a platform for political and strategic discussions on the future of Europe, created last year at the initiative of French President Emmanuel Macron – took place in Prague in October 2022.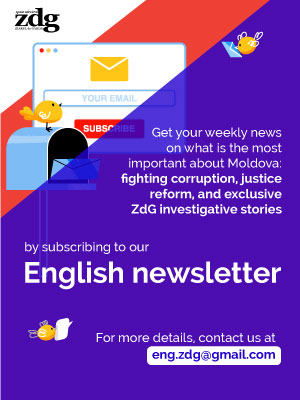 Cristian Jardan
24 July 2020
While looking for interesting local people to invite to the Moldovan-American Convention MAC8 in Seattle, that will be held between September 30th and October 2nd 2022, I found Vladislav Zotea, a mountain climb…
Starting with his own life story, in 2010, Jasminko Halilovic, originally from Bosnia and Herzegovina, began documenting a book about children growing up in war times. Meanwhile, meeting dozens of people who we…
Roskomnadzor (Federal Communications, Information Technology, and Media Surveillance Service) ordered Ziarul de Gardă to delete an article about Russia's war on Ukraine and asked Internet operators to blo…
Several articles published by ZdG during 2021 have had an impact and led to opening criminal cases or sanctions. The investigation "Concrete Instead of Trees in a Chișinău Forest" brought to the public's…
"I left the unit out of fear. I joined the army to do military service and not to let someone mock me. (…) The superiors reacted aggressively. I learnt nothing from the military service: I made repa…
"Fighting corruption is a very important process that we engage to complete; the country's strategy, however, must focus on education." A year after the inauguration of Maia Sandu as President…
-
-
barista oat milk
-
yatırımsız deneme bonusu