The so-called authorities in the Transnistrian region are asking Russia to increase the number of Russian "peacekeepers," Leonid Manakov, the region's so-called representative in Moscow, told RIA Novosti.
"The peacekeepers are the main security factor on the Dniester and the main obstacle to the hotheads in Chisinau and Kiev. As long as Russia's peacekeeping mission continues, Moldova is limited in any military plans and preparations against Transnistria," says Leonid Manakov.
According to the so-called representative of the Transnistrian region in Moscow, in 1995 Russia reduced its contingent to two battalions of motorised riflemen, although originally there were six. Today, according to Manakov, "the number of Russian peacekeepers in the security zone does not exceed 450, while the documents of the Joint Control Commission indicate a strength of 3,100". Tiraspol's so-called representative in Moscow claims that Russian "peacekeepers" could be reinforced from among the Russians permanently residing in the Transnistrian region.
When asked by Ziarul de Gardă, representatives of the Reintegration Policies Bureau said that "the parties signatories of the 21 July 1992 agreement can speak about the peace mechanism, and not people who have nothing to do with it".
"First of all, the question of the status of the so-called representation on behalf of which Mr Manacov is presenting himself must be clarified. Chisinau has been waiting for such clarifications for more than 4 years. Secondly, the parties that signed the Agreement of 21 July 1992 can speak about the peace mechanism, and not people who have no connection with this mechanism", Mariana Sarî, spokeswoman of the Reintegration Policies Bureau, told ZdG.
The ceasefire agreement was signed in Moscow on 21 July 1992, ending the armed clashes between Chisinau and Tiraspol, but not the political or economic ones. The agreement was signed by Russian President Boris Yeltsin and Moldovan President Mircea Snegur.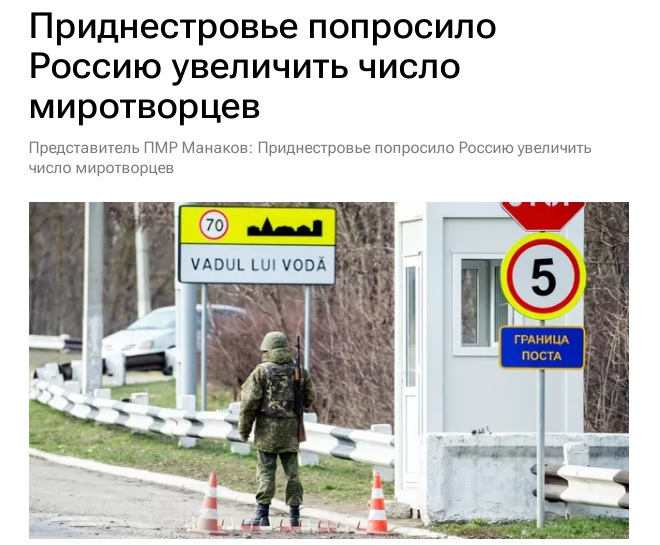 The Transnistrian region is not recognised by any state in the world. The territory declared its "independence" in 1991. This was followed by armed conflict in 1992, which killed several thousand people. Moldova has not recognised the secession of the PMR. Relations between Moldova and the Transnistrian region, where the 14th Army is stationed to this day, remain unresolved.
While looking for interesting local people to invite to the Moldovan-American Convention MAC8 in Seattle, that will be held between September 30th and October 2nd 2022, I found Vladislav Zotea, a mountain climb…
Starting with his own life story, in 2010, Jasminko Halilovic, originally from Bosnia and Herzegovina, began documenting a book about children growing up in war times. Meanwhile, meeting dozens of people who we…
Roskomnadzor (Federal Communications, Information Technology, and Media Surveillance Service) ordered Ziarul de Gardă to delete an article about Russia's war on Ukraine and asked Internet operators to blo…
Several articles published by ZdG during 2021 have had an impact and led to opening criminal cases or sanctions. The investigation "Concrete Instead of Trees in a Chișinău Forest" brought to the public's…
"I left the unit out of fear. I joined the army to do military service and not to let someone mock me. (…) The superiors reacted aggressively. I learnt nothing from the military service: I made repa…
"Fighting corruption is a very important process that we engage to complete; the country's strategy, however, must focus on education." A year after the inauguration of Maia Sandu as President…
-
-
barista oat milk
-
yatırımsız deneme bonusu