The United States sees no imminent military threat to Moldova at this time. However, it believes the Russian Federation is trying to undermine the government in Chisinau. The statements were made by US National Security Council Strategic Communications Coordinator John Kirby at a briefing on the situation in Moldova held at the White House on Friday 10 March.
The US official claims that the protests being organised in Chisinau are allegedly supported by the Russian Federation to bring a "more pro-Russian government to the capital".
"I'd like to touch on some recent developments in Moldova, which is a strong partner of the US. As you are also aware, President Biden met last month with Moldovan President Maia Sandu in Warsaw, where they discussed Russia's war. During that meeting, President Biden reaffirmed U.S. support for Moldova's sovereignty and territorial integrity, and emphasized our continued assistance to help Moldova strengthen its political and economic resilience, including its democratic reform agenda and energy security.

Like President Sandu, we see no immediate military threat to Moldova. But in recent weeks, Ms Sandu has publicly warned that Russia is trying to destabilise Moldova. We have the same concerns. So, in the spirit of our partnership with Moldova, we have the opportunity to share the information we have, including from the intelligence services, about Russia's efforts to destabilise Moldova.

As Moldova continues on its path towards European integration, we believe that Russia is examining options to weaken the Moldovan government, with the ultimate goal probably being the establishment of a more Russian-friendly administration in the capital.

Specifically, agents in Russia, some with links to Russian intelligence, are trying to organise and use the protests in Moldova to instigate an organised uprising against the Moldovan Government.

On top of this, we can expect another group of Russian agents to provide training and help organise demonstrations in Moldova.

In previous years, we have seen Russia try but fail to destabilise other European countries, with the situation in Montenegro in 2016 being a recent example," said John Kirby.
However, the official stresses that "we should not overestimate the capabilities" of the Russian Federation, whose authorities would try to cause confusion about stability in Moldova.
"While the actions of Russian groups trying to target Moldova are worrying, we should not overestimate their capabilities. I want to stress that the Moldovan government is resilient and working effectively to counter these threats. We have confidence in Moldova's democratic and economic institutions and their capacities to respond to these threats and, of course, we will continue to provide strong support.

While these agents in Russia are planning destabilisation, Russian officials are trying to create confusion about Moldova's stability. We have seen Russian representatives declaring, for example, that Ukraine intends to attack the separatist region on the left bank of the Dniester. Let me state clearly: these claims are unfounded, false, and can create an unfounded state of alert," said the US National Security Council's strategic communications coordinator.
Kirby said the US will continue to provide the Moldovan authorities with the information it has and that the Biden administration is working with Congress to provide Moldova with an additional $300 million in energy assistance.
"So in response to Russia's plan to destabilize Moldova, we are taking several steps.

First, we will strengthen the intelligence that Moldova possesses. We have provided our Moldovan counterparts with the data I have mentioned, as well as additional details, so that they can further investigate, prosecute and thwart Russian plans. We will continue to cooperate closely with the Moldovan Government in this regard.

Secondly, we will continue to publicise the identities and actions of these Russian agents. In October, for example, we sanctioned 9 individuals and 12 entities involved in destabilising Moldova, including oligarchs widely recognised for corrupting Moldova's state institutions, and those acting as instruments of Russia's global influence campaign. We will continue to target and sanction those associated with Russian destabilisation mechanisms.

Third, as stated, we will continue to support the people and Government of Moldova in confronting the consequences of Russia's brutal war in Ukraine and in deepening European integration. The United States has provided more than $265 million in emergency support, beginning in February 2022, to help Moldova address the economic, energy, security, and humanitarian impacts of the war, while maintaining progress on the economic and democratic reform agenda.

To further support Moldova, including its economy, our Administration is working with Congress to provide Moldova with an additional $300 million in energy sector assistance to address urgent needs created by the war in Ukraine and to strengthen Moldova's energy resilience and security.

The United States strongly supports Moldova's political, economic, and anti-corruption reforms and its deepening European integration. Moldovan citizens have clearly demonstrated that they want a better future. We too want to witness this brighter future, and we will be there to support Moldova every step of the way," said John Kirby.
The United States (US) has announced $300 million in aid to strengthen Moldova's energy independence. The announcement was made by Samantha Power, Administrator of the United States Agency for International Development (USAID) on Friday 24 February, one year after the Russian invasion of Ukraine.
On Monday 13 February, Moldovan President Maia Sandu spoke at a briefing about the Russian Federation's plans to destabilise Moldova and how state institutions are working to ensure the country's security. The head of state said that documents have been received from our Ukrainian partners, which involve the organization of several subversive activities.
"Through violent actions, disguised as protests by the so-called opposition, they would force a change of power in Chisinau. The documents received from our Ukrainian partners show a good documentation of the locations and logistical aspects for the organization of these subversive activities. The plan also involves the use of foreigners for violent actions," the head of state said.
President Maia Sandu gave assurances that state institutions are working to prevent such provocations and that the situation is kept under control. At the same time, she called on all state institutions to show maximum vigilance.
"The Moldovan Parliament must adopt, as soon as possible, the draft laws that will provide the SIS and the prosecutor's office with the necessary tools to combat more effectively the risks to the country's security. All those who participate in these actions against the Moldovan state – foreign elements, members of political parties and criminal groups, as well as all those who protect them, must be held accountable", stressed President Maia Sandu.
Volodimir Zelenski told a European Council meeting on Thursday (9 February) that Ukraine had intercepted the Russian Federation's plan to destabilise Moldova. According to the Ukrainian president, it envisaged taking control of the state. The statements were confirmed by the Information and Security Service (SIS) in Chisinau, which said that "subversive activities aimed at undermining the state of Moldova, destabilisation and violation of public order have been identified".
SIS representatives issued a press release confirming receipt of information from Ukrainian partners, but said they could not provide further details "as there is a risk of jeopardising various operational activities underway".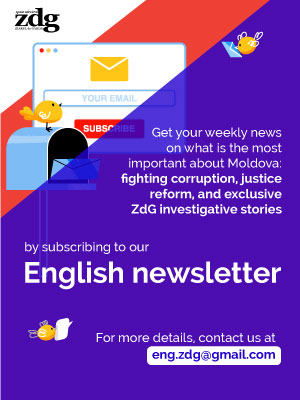 Alina Radu
02 September 2020
While looking for interesting local people to invite to the Moldovan-American Convention MAC8 in Seattle, that will be held between September 30th and October 2nd 2022, I found Vladislav Zotea, a mountain climb…
Starting with his own life story, in 2010, Jasminko Halilovic, originally from Bosnia and Herzegovina, began documenting a book about children growing up in war times. Meanwhile, meeting dozens of people who we…
Roskomnadzor (Federal Communications, Information Technology, and Media Surveillance Service) ordered Ziarul de Gardă to delete an article about Russia's war on Ukraine and asked Internet operators to blo…
Several articles published by ZdG during 2021 have had an impact and led to opening criminal cases or sanctions. The investigation "Concrete Instead of Trees in a Chișinău Forest" brought to the public's…
"I left the unit out of fear. I joined the army to do military service and not to let someone mock me. (…) The superiors reacted aggressively. I learnt nothing from the military service: I made repa…
"Fighting corruption is a very important process that we engage to complete; the country's strategy, however, must focus on education." A year after the inauguration of Maia Sandu as President…
-
-
-
barista oat milk
-
Tipobet Giriş
-
Ligobet