The pre-vetting commission announced on Friday, 27 January, the decisions on three non-judge candidates on the list submitted by the Parliament for the position of member of the Superior Council of Magistracy (CSM).
Thus, according to the Commission, the non-judge candidates Evgheni Florea, a university professor at the State University of Comrat, and Ilie Mămăligă, a lawyer, did not submit within the deadline the declaration of assets and personal interests with updated data for the last 5 years and/or the required annexes, which led to their non-approval.
Candidate Fiodor Bria, lecturer at the Free International University, withdrew from the competition, thus failing the assessment.
In accordance with the legal procedure, the Commission's decisions were forwarded to the candidates and Parliament. The decisions are subject to appeal and may be challenged by candidates at the Supreme Court of Justice within 5 days of receipt. At the same time, the three non-judge candidates have 48 hours to notify the Commission whether they accept or oppose the publication of the reasoned decisions.
12 non-judge candidates, elected on the basis of a public competition, have been proposed by the Parliament to participate in the competition for membership of the CSJ. They are subject to a financial and ethical integrity assessment by the pre-vetting committee.
The pre-vetting commission announced on Tuesday 17 January that it has started the evaluation procedure of the group of candidates put forward by the Parliament for membership of the Superior Council of Magistracy (CSM). The list of 12 non-judge candidates, admitted to the competition by a decision of the Parliament's Committee on Legal Affairs, Appointments and Immunities, includes self-employed lawyers, lawyers and representatives of civil society and academia, who will go through the process of financial and ethical integrity checks in order to become eligible to become permanent members of the CSM.
Of the non-judge candidates who pass the pre-vetting commission's assessment, Parliament will appoint, by a vote of three-fifths of elected MPs, six members of the Superior Council of Magistracy. Thus, the new composition of the CSJ will be made up of 6 judges, elected by secret ballot by the General Assembly of Judges, and 6 non-judges, appointed by Parliament.
The list of non-judge candidates, submitted by the Legislature, consists of Valentin Caișîn, Ludmila Ouș, Tatiana Chiriac, Alexandru Rotari, Eugen Florea, Fiodor Bria, Alexandru Postică, Ion Guzun, Ilie Mămăligă, Ștefan Belecciu and Angela Popil.
So far, only five candidates for positions in the CSM have passed the evaluation of the pre-vetting commission – Livia Mitrofan and Maria Frunze from the Chisinau Court of Appeals, Centre seat, Ioana Chironeț, judge at the Chisinau Court of Appeals, Ciocana seat, Vasile Șchiopu, judge at the Ungheni Court of Appeals and Sergiu Caraman, judge at the Criuleni Court of Appeals.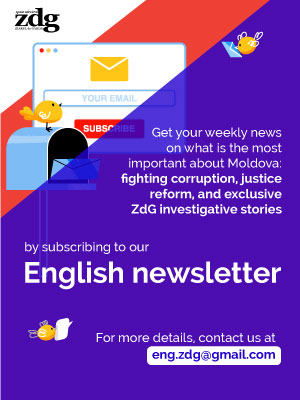 Diana Gatcan
17 July 2020
While looking for interesting local people to invite to the Moldovan-American Convention MAC8 in Seattle, that will be held between September 30th and October 2nd 2022, I found Vladislav Zotea, a mountain climb…
Starting with his own life story, in 2010, Jasminko Halilovic, originally from Bosnia and Herzegovina, began documenting a book about children growing up in war times. Meanwhile, meeting dozens of people who we…
Roskomnadzor (Federal Communications, Information Technology, and Media Surveillance Service) ordered Ziarul de Gardă to delete an article about Russia's war on Ukraine and asked Internet operators to blo…
Several articles published by ZdG during 2021 have had an impact and led to opening criminal cases or sanctions. The investigation "Concrete Instead of Trees in a Chișinău Forest" brought to the public's…
"I left the unit out of fear. I joined the army to do military service and not to let someone mock me. (…) The superiors reacted aggressively. I learnt nothing from the military service: I made repa…
"Fighting corruption is a very important process that we engage to complete; the country's strategy, however, must focus on education." A year after the inauguration of Maia Sandu as President…
-
-
eskort
-
eskort eskişehir
-
-
barista oat milk