Alexandru Dodon, brother of former President Dodon
Alexandru Dodon, the brother of former Moldovan President Igor Dodon, was reportedly detained on January 17 by Russian authorities and shortly after – released. An announcement to this effect was made by the leader of the "Our Party" political party, controversial businessman Renato Usatii, at a press conference.
Asked by Ziarul de Gardă, the spokeswoman of the Prosecutor General's Office (PG), Violina Moraru, said that "the Prosecutor General's Office does not have any information on the case".
According to Usatii, Dodon's brother was detained at the request of the authorities in Chisinau and shortly afterwards released on the grounds of Russian citizenship.
"(…) Dodon's brother was detained the day before yesterday in Moscow. They held him until late at night (…). As I understand it, he was detained on the basis of a search by the Moldovan authorities and they released him at night on the basis that he is a citizen of the Russian Federation, but citizens of the Russian Federation, if there is an arrest warrant from another state, they are automatically released because the Russian Constitution does not provide for extradition of their own citizens (…)," Usatii said.
Meanwhile, Igor Dodon told Jurnal TV that his brother "has been sleeping at home for the past weeks and days"
"I have no such information. I know that my brother has been sleeping at home for the past weeks and days. I have no contact with him because he is an extra in a criminal case. But as far as I know, there is no problem and he has not been detained. He has Russian citizenship and works in Moscow. Requests have been sent from here by the courts, but I don't know more details," Igor Dodon told Jurnal TV.
ZdG previously wrote that in December 2019, Alexandru Dodon, Igor Dodon's brother, took the first step towards launching his official business in Moldova. Alexandru Dodon was listed in the Public Services Agency's documents as the sole founder of the company "Agrofactory" SRL, with declared activities in agriculture. The company was registered in Sadova, the Dodon brothers' home village, and had a share capital of 10 thousand lei. In 2016, the year his brother became president, officially, Alexandru and Ecaterina Dodon's family reported a cumulative income of only 120 thousand lei, money obtained by the spouses only from salaries.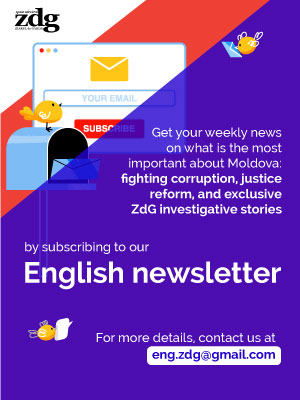 Petru Grozavu
02 December 2020
While looking for interesting local people to invite to the Moldovan-American Convention MAC8 in Seattle, that will be held between September 30th and October 2nd 2022, I found Vladislav Zotea, a mountain climb…
Starting with his own life story, in 2010, Jasminko Halilovic, originally from Bosnia and Herzegovina, began documenting a book about children growing up in war times. Meanwhile, meeting dozens of people who we…
Roskomnadzor (Federal Communications, Information Technology, and Media Surveillance Service) ordered Ziarul de Gardă to delete an article about Russia's war on Ukraine and asked Internet operators to blo…
Several articles published by ZdG during 2021 have had an impact and led to opening criminal cases or sanctions. The investigation "Concrete Instead of Trees in a Chișinău Forest" brought to the public's…
"I left the unit out of fear. I joined the army to do military service and not to let someone mock me. (…) The superiors reacted aggressively. I learnt nothing from the military service: I made repa…
"Fighting corruption is a very important process that we engage to complete; the country's strategy, however, must focus on education." A year after the inauguration of Maia Sandu as President…
-
-
eskort
-
eskort eskişehir
-
-
barista oat milk