The Independent Journalism Center (CJI) and the Press Freedom Committee have named the "Journalists of the Year 2022" at the 28th Annual Press Club Gala held on Thursday, December 22, in Chisinau.
Ziarul de Gardă won the award in the investigative category, for its investigation "Protesters to rent", and the special prize for the development of the year.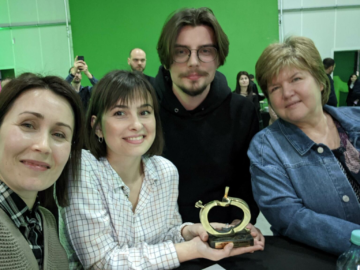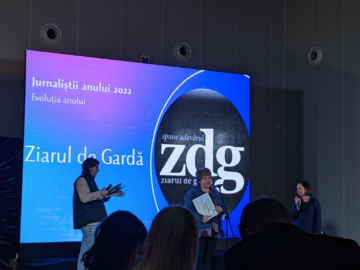 The award for coverage of the war in Ukraine went to Viorica Tataru and Andrei Captarenco. Those present at the event held a minute's silence for the victims of Russian aggression.



Feature category:
Georgeta Carasiucenco and Tatiana Beghiu, Moldova.org
Felicia Cretu, Cu Sens

Opinion article category:
Mihail Sirkeli and Anna Dmitrieva, Nokta.md
Talk show category:
Iulia Budeci, TV8
Podcast category:
Alex Gurdila, "Prepare for Future" podcast, Agora
Longread category:
Polina Cupcea, Oameni și Kilometri (People and Kilometres)
Investigation category:
Ziarul de Gardă
Special award for coverage of issues on the left bank of the Dniester:
Zona de Securitate (Security Zone)
Special award for comprehensive and accurate coverage of the refugee situation:
NewsMaker
Special award "Hope of 2022":
Nicolai Koseru
Ecaterina Buruiană
Cristian Bolotnicov

Special award for the development of the year:
RISE Moldova
The Guard Newspaper

Excellence in Journalism Award:
Rodica Mahu
More than 70 entries were submitted to this year's annual Press Club Gala, the event's presenters said.
The Journalists of the Year Gala has been organized annually since 1995 at the Chisinau Press Club. The main purpose of this event is to support and encourage journalists' efforts to make quality press, adhering to international professional standards.
While looking for interesting local people to invite to the Moldovan-American Convention MAC8 in Seattle, that will be held between September 30th and October 2nd 2022, I found Vladislav Zotea, a mountain climb…
Starting with his own life story, in 2010, Jasminko Halilovic, originally from Bosnia and Herzegovina, began documenting a book about children growing up in war times. Meanwhile, meeting dozens of people who we…
Roskomnadzor (Federal Communications, Information Technology, and Media Surveillance Service) ordered Ziarul de Gardă to delete an article about Russia's war on Ukraine and asked Internet operators to blo…
Several articles published by ZdG during 2021 have had an impact and led to opening criminal cases or sanctions. The investigation "Concrete Instead of Trees in a Chișinău Forest" brought to the public's…
"I left the unit out of fear. I joined the army to do military service and not to let someone mock me. (…) The superiors reacted aggressively. I learnt nothing from the military service: I made repa…
"Fighting corruption is a very important process that we engage to complete; the country's strategy, however, must focus on education." A year after the inauguration of Maia Sandu as President…
-
-
barista oat milk
-
yatırımsız deneme bonusu