The editor-in-chief of Ziarul de Gardă Victor Moșneag was awarded second place in the "Journalistic Investigations of the Year 2022" competition in the national media category with his investigation "Biomass heating: The story of a local failure fuelled by Japanese millions".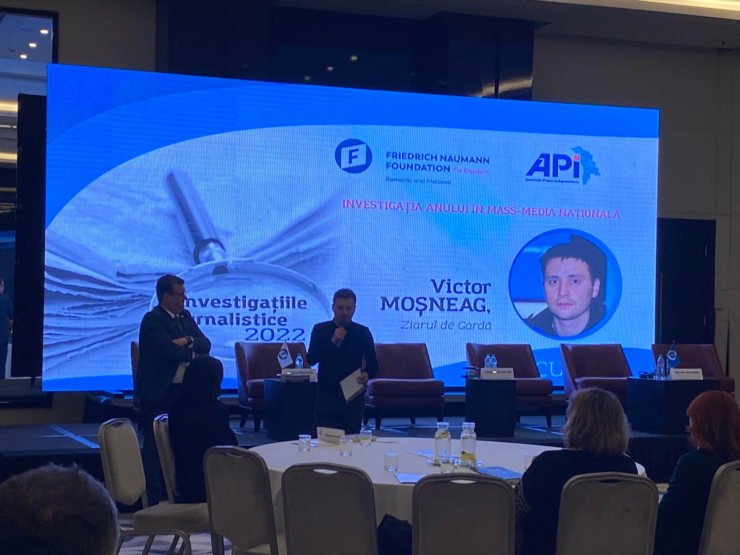 ZdG journalist Aliona Ciurcă was also awarded a prize in the "Audiovisual" category of the "Journalists – for Diversity and Inclusion" journalism competition organised by the Independent Press Association. The award ceremony took place during the Moldovan Media Forum, which started on Tuesday 22 November in Chisinau.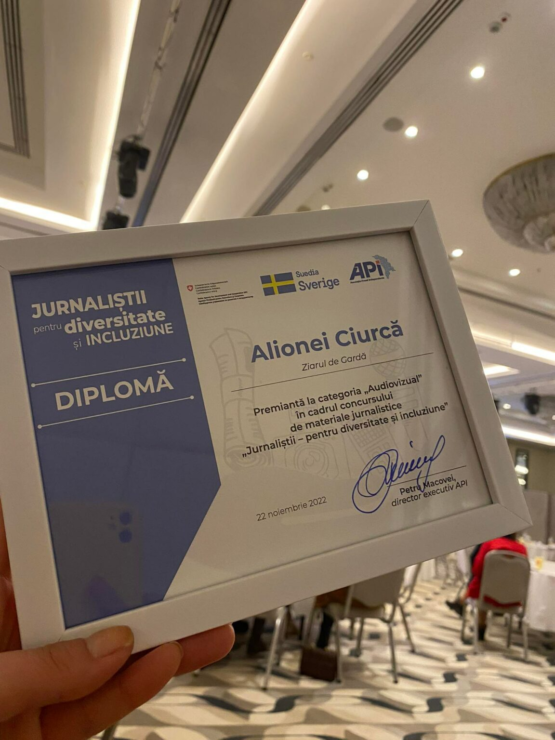 The seventh edition of the Moldovan Media Forum started on Tuesday 22 November in Chisinau and lasted for two days. More than 150 journalists, editors, media managers, professors and students from journalism faculties have participated in the event. Representatives of public institutions and regulators, experts from the country and abroad have also been invited, according to the Independent Press Association (API).
On the first day of the Forum, two debates were held, one on "Journalism in times of war" with journalist Alexandra von Nahmen from DW (Germany) and three Moldovan journalists who covered Russia's war against Ukraine, and the second one launched the "Access to Information Index" which measures the transparency of public institutions in Moldova.
There were also three workshops on harassment of journalists online, copy paste and overcoming burnout.
"Professionals have their say: exchange of experience in an informal atmosphere" – this is the title of the networking activities that took place at the beginning of the second day of the Forum on 23 November. Journalists and media managers have the opportunity to discuss, share ideas and seek advice from colleagues on five different topics.
On the second day of the Forum there were three further workshops on monetising content in print and online media, moderating comments, avoiding and managing conflicts of interest. Local and international experts from the US, Germany, Romania, Ukraine have been invited to all six workshops.
After presenting the conclusions and recommendations of the workshops, the participants adopted the Media Forum 2022 Resolution which was be forwarded to national authorities and international organisations monitoring Moldova's democratic development, API notes.
The Media Forum is organised annually by the Press Council in partnership with the Independent Press Association (API), the Independent Journalism Centre (IJC) and the Electronic Press Association (APEL). The 2022 edition is organised in partnership with Freedom House.
According to API, the Media Forum 2022 is being held with the support of the Soros Foundation Moldova, the United States Agency for International Development (USAID) and the British Embassy in Chisinau (through the project "Press in support of democracy, inclusion and accountability in Moldova/MEDIA-M, implemented by Internews in Moldova, Freedom House and the Independent Journalism Centre), the Friedrich Naumann Foundation for Southeast Europe and DW Akademie (Germany).
While looking for interesting local people to invite to the Moldovan-American Convention MAC8 in Seattle, that will be held between September 30th and October 2nd 2022, I found Vladislav Zotea, a mountain climb…
Starting with his own life story, in 2010, Jasminko Halilovic, originally from Bosnia and Herzegovina, began documenting a book about children growing up in war times. Meanwhile, meeting dozens of people who we…
Roskomnadzor (Federal Communications, Information Technology, and Media Surveillance Service) ordered Ziarul de Gardă to delete an article about Russia's war on Ukraine and asked Internet operators to blo…
Several articles published by ZdG during 2021 have had an impact and led to opening criminal cases or sanctions. The investigation "Concrete Instead of Trees in a Chișinău Forest" brought to the public's…
"I left the unit out of fear. I joined the army to do military service and not to let someone mock me. (…) The superiors reacted aggressively. I learnt nothing from the military service: I made repa…
"Fighting corruption is a very important process that we engage to complete; the country's strategy, however, must focus on education." A year after the inauguration of Maia Sandu as President…
-
-
barista oat milk
-
yatırımsız deneme bonusu