The Prosecutor's Office for Combating Organized Crime and Special Cases (PCCOCS), together with officers of the National Investigation Inspectorate (INI) and the General Directorate of Prosecution (DGUP) of the Police, have completed the prosecution of the director and sales manager of a travel company, who damaged more than 100 customers with more than 4.6 million lei.
The two defendants are aged 55 and 32 and live in Chisinau. According to the Criminal Code, fraud committed under these circumstances is punishable by 8 to 15 years' imprisonment with deprivation of the right to hold certain positions or to exercise a certain activity for up to 5 years.
The file for investigation of this criminal scheme was handed over to the PCCOCS management at the end of 2021, and in February 2022, lawmen announced about eight searches on this case.
As a result of the ensuing investigations, according to PCCOCS, the number of customers who were defrauded and the amounts of money they were deprived of were totalled, as well as the charges presented by prosecutors to the two women.
"The scheme has been operating since 2019, when customers were lured with attractive prices and exotic destinations. Subsequently, the company invoked various reasons why they could not facilitate their promised travel and tourist stay, including pandemic, various technical errors or that the money transferred would not be received. In 2021, however, the scammed customers started filing complaints, and the company has recently ceased operations," a statement from the Prosecutor's Office said.
At the request of PCCOCS prosecutors, seizures were applied to the assets of the defendants, in the amount of more than 2.2 million lei – cars and residential and non-residential premises jointly owned with other persons. According to the PCCOCS, the case is now to be sent to the court for a substantive examination of the criminal case, during which time the persons concerned are presumed innocent, according to the law.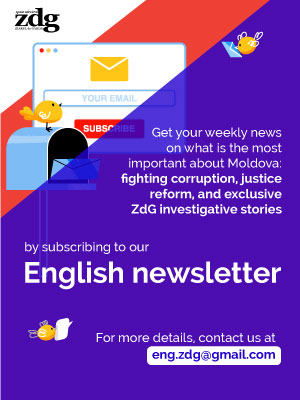 Alina Radu
21 June 2020
While looking for interesting local people to invite to the Moldovan-American Convention MAC8 in Seattle, that will be held between September 30th and October 2nd 2022, I found Vladislav Zotea, a mountain climb…
Starting with his own life story, in 2010, Jasminko Halilovic, originally from Bosnia and Herzegovina, began documenting a book about children growing up in war times. Meanwhile, meeting dozens of people who we…
Roskomnadzor (Federal Communications, Information Technology, and Media Surveillance Service) ordered Ziarul de Gardă to delete an article about Russia's war on Ukraine and asked Internet operators to blo…
Several articles published by ZdG during 2021 have had an impact and led to opening criminal cases or sanctions. The investigation "Concrete Instead of Trees in a Chișinău Forest" brought to the public's…
"I left the unit out of fear. I joined the army to do military service and not to let someone mock me. (…) The superiors reacted aggressively. I learnt nothing from the military service: I made repa…
"Fighting corruption is a very important process that we engage to complete; the country's strategy, however, must focus on education." A year after the inauguration of Maia Sandu as President…
-
-
eskort
-
eskort eskişehir
-
-
betasus twitter