Strasbourg, 20.10.2021 – At the end of a fact-finding visit to the Republic of Moldova (12-15 October), the monitoring co-rapporteurs of the Parliamentary Assembly of the Council of Europe (PACE), Inese Lībiņa-Egnere (Latvia, EPP/CD) and Pierre-Alain Fridez (Switzerland, SOC), welcomed the determination of the Moldovan authorities to reform the judiciary to strengthen its independence and to fight corruption, creating a momentum for change aimed at addressing the concerns of the population.
They welcomed, in particular, the adoption of constitutional amendments agreed upon by all major political parties to depoliticise the judiciary. They also welcomed cooperation with the Council of Europe in pursuing judicial reform. These changes, they stressed, are aimed at restoring confidence in the state bodies and should build sustainable institutions based on European standards.
Believing that good governance implied transparency in public life, the co-rapporteurs also said that the ruling party – with a large majority in parliament – had now a great responsibility to improve transparency in the financing of political parties.
They welcomed the progress made in the field of women's rights and congratulated the Republic of Moldova on the ratification of the Istanbul Convention.
Finally, the co-rapporteurs, who visited Tiraspol, noted the readiness of the de facto authorities to engage in a dialogue with the PACE Sub-Committee on Conflicts between Council of Europe Member States on the protection of human rights in the context of the Transnistrian settlement process.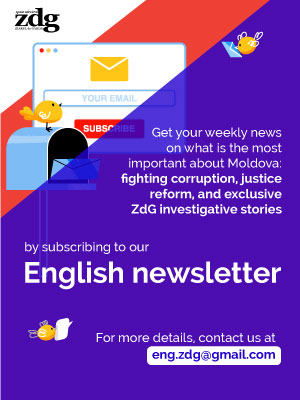 Media Azi
02 July 2020
While looking for interesting local people to invite to the Moldovan-American Convention MAC8 in Seattle, that will be held between September 30th and October 2nd 2022, I found Vladislav Zotea, a mountain climb…
Starting with his own life story, in 2010, Jasminko Halilovic, originally from Bosnia and Herzegovina, began documenting a book about children growing up in war times. Meanwhile, meeting dozens of people who we…
Roskomnadzor (Federal Communications, Information Technology, and Media Surveillance Service) ordered Ziarul de Gardă to delete an article about Russia's war on Ukraine and asked Internet operators to blo…
Several articles published by ZdG during 2021 have had an impact and led to opening criminal cases or sanctions. The investigation "Concrete Instead of Trees in a Chișinău Forest" brought to the public's…
"I left the unit out of fear. I joined the army to do military service and not to let someone mock me. (…) The superiors reacted aggressively. I learnt nothing from the military service: I made repa…
"Fighting corruption is a very important process that we engage to complete; the country's strategy, however, must focus on education." A year after the inauguration of Maia Sandu as President…
-
-
barista oat milk
-
yatırımsız deneme bonusu