A surgeon from the Oncological Institute was recently detained by the National Anticorruption Center officers and anti-corruption prosecutors on suspicion of passive corruption. He was reported by a patient, who complained that she had been asked for around 400 euros (8,000 lei) for surgery.
In fact, the patient, who was suffering from an incurable disease, announced that she would undergo surgery in the Gynecology Department within the Oncological Institute, and for the services of the staff, trained in the operation, she paid around 400 euros (8,000 lei). 
According to her, the surgeon would have called her to the office and told her that the whole team, which will attend the operation, must be "satisfied", and the money would be sent after the intervention. A few days before the operation, however, the same doctor invited her again, telling her that until the operation she had to send the doctor around 50 euros (1,000 lei) and around 350 euros (7,000 lei) after the operation.
The woman filed a complaint with the National Anticorruption Center, and a criminal case was initiated against the facts described. Thus, both amounts were transmitted under the control of the National Anticorruption Center, the actions being documented audio and video. Today, following searches, carried out by prosecutors and the National Anticorruption Center at the doctor's office, he was detained for 72 hours and placed in the National Anticorruption Center isolator.
He is currently being investigated for corruption and faces up to 10 years in prison, a criminal fine and deprivation of the right to hold public office for a certain period.
The Anticorruption Prosecutor's Office conducts the criminal investigation.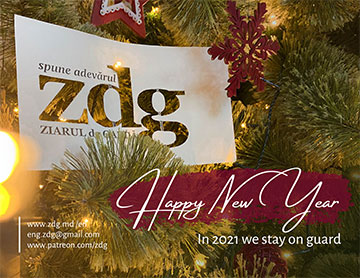 Anatolie Eșanu, Victor Moșneag
04 September 2020
The Constitutional Court declared inadmissible the notification of the Action and Solidarity Party regarding the possibility of self-dissolution of the Parliament. The announcement was made today, January 18, b…
The President of Moldova, Maia Sandu, had a meeting with Laura Codruța Kövesi, Chief Prosecutor of the European Public Prosecutor's Office, in Brussels, during which the judicial reforms were discussed. &…
Durlești Forest, located in the suburbs of Chisinau, is destroyed under the eyes of the authorities. Instead of trees growing, we see reinforced concrete constructions all over the place, despite the fact that…
This week we watched a symptomatically sad meeting between three former Soviet countries' presidents: Vladimir Putin invited Armenian Prime Minister Nikol Pashinyan and Azerbaijani President Ilham Aliyev to a m…
In 2020, the website www.zdg.md hosted the most readers in its history: 5 million. The news, surveys, interviews, and reports of ZdG journalists were read, distributed, and discussed both online and in many loc…
Last week President of Moldova, Maia Sandu withdrew Pavel Abraham from the Commission for the selection of candidates for the position of judge at the European Court of Human Rights (ECHR). As a follow-up, the…